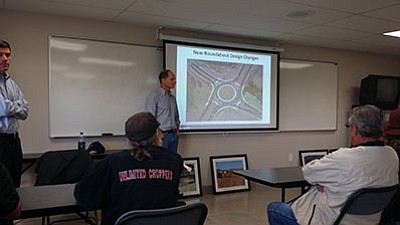 Originally Published: November 12, 2015 6 a.m.
GOLDEN VALLEY - Residents and business owners expressed concerns about speed and safety on State Route 68 during a Nov. 4 meeting with Arizona Department of Transportation officials, but they were mostly opposed to putting in roundabouts.
ADOT is conducting a preliminary study on the highway to create a vision of what the growing traffic corridor should look like, ADOT Northwest District engineer Alvin Stump said.
His goal is to maintain an efficient road with public safety as a priority.
Funding isn't available for large projects, so ADOT is looking at what can be done in the meantime to make incremental improvements, he said.
The easiest and least expensive option is to install right-turn lanes at the intersections of Teddy Roosevelt, Verde and Morenci roads. It's going to be a long time before those intersections meet standards to warrant signals.
ADOT's five-year construction plan has $1.5 million allocated for fiscal year 2016 for right-turn lanes on State Route 68 near milepost 20, Stump told the Daily Miner. No start date has been set for the project.
"We continue to apply for those funds," he said. "We may not be successful every year. It may be every other year. Basically, if we get bits of that money, we can do something with it."
Part of the discussion focused on roundabouts, which have proven to be effective in other Arizona corridors, Stump said.
The idea is to build one or two roundabouts at a time and raise the center median to restrict access and make it a right-turn in and right-turn out on Highway 68. Each roundabout would cost about $2 million to build.
That's not going to work for Rick Armstrong, manager of Superior Tire.
"For me, it's an absolute waste of taxpayer money," he said. "Think about it. Two million dollars can be better spent to lower the speed limit by 10 mph and that can pay for two highway patrolmen around the clock for five years."
Highway 68 is traveled by motorists going between Bullhead City and Kingman, and has a left-turn lane through the business district of Golden Valley. The ADOT study is looking at roughly a 13-mile stretch of the road from U.S. Highway 93 to milepost 14.
"When they talk about doing away with the lane for a left turn, you can't feed a business from one way," Armstrong said. "If people can't get into your business, they'll just drive on by. They'll go on to Bullhead City or Kingman. This is the biggest problem we've incurred."
It's hard enough to do business on Highway 68 because people are focused on driving, not the sign advertising a $19.99 oil change, he said.
As far as roundabouts in other areas, what works well in one part of the state may not work in Mohave County, where people have more of a "laid-back mindset," Armstrong said.
"Basically, the way it was put to us in the meeting, it's either our way or the highway," he said. "You have one guy telling you this is the way it is. They were not very receptive to what the public had to say."
Stump said people were against the idea initially, but after he showed a presentation and talked to them, some were more open-minded.
It's typical to get opposition when roundabouts are introduced to a new community, the ADOT engineer said. It just takes a while to learn how to drive them.
Roundabouts force people to slow down, and studies have shown a 75 percent reduction in injury accidents and 95 percent reduction in fatalities with roundabouts, Stump said. They eliminate T-bone crashes and also help pedestrians cross the road.
He also talked about concurrently upgrading parallel streets with millings that ADOT could provide to the county. That would improve access to side roads connecting with Highway 68.
ADOT will schedule another meeting in the spring to update Golden Valley residents and business owners on the traffic study.