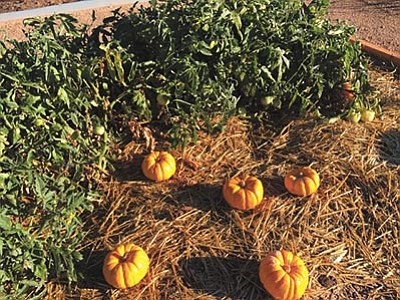 Originally Published: November 12, 2015 6 a.m.
American Legion Family of Post 14: Congratulations to Kenneth Gump and Steve Seney, winners of last Saturday's ALA unit meat bags. Beginning at 5 p.m., until we run out, the Fiesta Friday menu for this Friday is beef stew and cheddar biscuits for a requested donation of $5. The Legionnaires meet at 5:30 p.m. today and the Riders are scheduled to get together at 2 p.m. Saturday. Also on Saturday, District 7 will be meeting at 11 a.m. at Post 22, Golden Valley.
The next meeting of the At-Risk Veterans Stand Down Committee is at 6 p.m. Wednesday in the Sunridge Assisted Living Facility, 839 Landon Drive, Bullhead City.
Belles of St. Mary's: This is a possible first for St. Mary Parish - a bona fide musical nightingale will be singing in our church! Julie Carrick will greet us this weekend at all three Masses, with the grand finale scheduled for 7 p.m. Monday. The Tri City area (LHC, BHC and Kingman) has been invited to this event, and we anticipate standing room only! Be sure you plan an early dinner and then join us as we are treated to this musical tribute to the Mother of God at Third and Spring streets. The U.S. Marine Corps celebrated its 240-year establishment today - as a proud grandmother of two Marines, I urge us all to bless God for our warriors. How fitting that our official day of Thanksgiving is only 14 days away. By the by, "Turkey Tuesday," an annual event for St. Vincent de Paul, is staged at our local Bashas' on Nov. 24. St. Vincent counts on our community to donate food items for those in need. Doing the Lord's work is what St. Vincent is all about, and your help is vitally needed.
Branch 260 Fleet Reserve Association meets at 1 p.m. the second Saturday of each month at VFW Post 2555, Golden Valley Highway 68 and Colorado Road.
Brunch Bunch Motorcycle Riders: The Brunch Bunch has no dues, no officers, no paperwork, no egos - we just ride Sundays and Wednesdays and have fun with like-minded friends. Meet at I-40 Exit 48 Chevron, 777 W. Beale St. at 8:30 a.m. Kickstands up at 9 a.m. For questions or information, contact Harley at (928) 530-2555 or visit us online at harley3787.wix.com/brunch-bunch-riders.
Cactus Cuties Lady Bikers Chapter: Interested in joining other lady motorcyclists with common interests of motorcycles and riding? There is a new Women in the Wind-Cactus Cuties Chapter in the Kingman, Golden Valley, Bullhead City and surrounding area! We meet the first Sunday of each month at 10 a.m. at Peggy Sue's Diner, 4305 Highway 68 in Golden Valley. Check out our website at www.womeninthewind.org or contact us at witwcactuscuties@yahoo.com or (702) 624-1160. We are also on Facebook: Women in the Wind - Cactus Cuties Chapter.
The Cerbat Garden Club welcomes guests at its meetings on the second Wednesday of the month from September through June. The garden club meets from 10 a.m.-noon in the fellowship hall of St. John's United Methodist Church at 1731 Kino Ave., Kingman. Come join the Garden Club at our Christmas party on Dec. 9. There will be a potluck brunch, white elephant gift exchange and entertainment provided by local musicians Barbara Pike and Miriam Lee. For more information, call Sandy at (928) 692-2778 or email us at cerbatgc@gmail.com. Visit our Facebook page and website www.cerbatgardenclub.org.
Conservative Republican Club of Kingman: On Monday, CRCK welcomes Cathi Herrod, president of the Center for Arizona Policy. This is a meeting many months in planning. CAP is the foremost social conservative think tank in Arizona, and one of the most important in the U.S. They are the originators of over 136 bills that have been signed into law, including the Defense of Marriage Act. They are pro-life and pro-family, and have featured speakers at their events such as Dr. Ben Carson and Dr. Charles Krauthammer of Fox News. CAP events are usually held in Phoenix and can cost $250 and up per ticket, but the public is invited to meet Cathi Herrod for the usual price of $3 at CRCK meetings, with lunch optional and on your own. The event will be held at the Dambar Steakhouse, 1960 E. Andy Devine Ave. at 11:15 a.m. No reservations are required. The formal meeting starts at noon, and there will be plenty of time for questions. CRCK dues are $12 a year, anyone paying their dues at this or our December meeting will be paying for 14 months. A small gift is included as a token of our appreciation. For furthers info, call (928) 530-3637 or email lchiffmd@frontiernet.net.
Fraternal Order of the Eagles: Aerie meets first and third Thursday each month; officers 6:30 p.m., general 7 p.m. - all members welcomed. Auxiliary meets second and fourth Tuesday each month; officers 6:30 p.m., general 7 p.m. - all members welcomed.
Friday Duplicate Bridge: The results of the Nov. 6 game were: tied for first, Trey Gordon and Bert Leenhouts and Jim Blaschak and Jerry Lipson; and third, Bryan Carlson and Donna Blaschak.
The Friends of the Library-Kingman: will be holding its annual meeting at 1 p.m. Tuesday at the library, 3269 N. Burbank Street. Elections for board members will be held and refreshments will be served. We will be emphasizing a membership drive and we encourage all members to bring friends who might be interested in joining and working with the Friends of Library. Awards and prizes will be given out.
The Kingman Area Toastmasters Group holds meetings from 5:45-6:45 p.m. the first and third Thursday of each month in the Kingman Regional Medical Center cafeteria meeting room. We provide a supportive and positive learning experience in which members are empowered to develop communication and leadership skills, resulting in greater self-confidence and personal growth. Joining Toastmasters will help you: become a better public speaker, overcome public speaking fears, "practice" presentations for other audiences, gain the confidence and courage to lead and have fun while learning, network and practice new skills!
Kingman Cancer Care Unit: 2015 marks the 40th anniversary of the Kingman Cancer Care Unit as a community organization dedicated to the help and assistance of cancer patients and their families in Kingman and neighboring communities. The annual Kingman Cancer Care Unit Arts and Crafts Fair will be held Saturday and Sunday at the Mohave County Fairgrounds. It is the organization's major fundraiser. This year's fair will be held from 9 a.m.-5 p.m. Saturday and 9 a.m.-4 p.m. Sunday. Admission is free. A parking fee of $2 will be charged. Over 150 vendors with handmade and specialty one-of-a-kind items will be for sale. Numerous concession vendors will also be on site. The annual Arts and Crafts Fair is a fun and unique event and at the perfect time to begin your holiday shopping. The Kingman Cancer Care Unit is a nonprofit volunteer organization. Our mission is to provide financial aid and moral support to the patients and their families during their hour of need. The Cancer Care Unit does not solicit donations through the mail and encourages local organizations to hold fundraising events on its behalf. Kingman Cancer Care Unit's support includes transportation to doctor visits, food and hotel accommodations, and health and personal equipment, just to name a few. Each year the Kingman Cancer Care Unit makes a donation to the University of Arizona for cancer research. Contact Penny White at (928) 757-3760 or email us at kingmancancerfair@yahoo.com.
Kingman Pinochle Club: The results for the Nov. 7 games were: first, Jim Robbins; second, Jan Crosier; and third, Tom Suminski and Rose Lesniewski. For more information about the club or to come play with us, call Connie at (928) 681-4934.
The Mohave Community Choir: Is practicing for its Dec. 5 Christmas concert from 6:30-8 p.m. Thursdays at the LDS Church on Rutherford Street. All who like to sing are invited to attend. The choir is looking for men and women ages 16 and up to fill all parts: soprano, alto, tenor and bass. Come and join us. For further information, contact Andy Campagnuolo at (928) 757-5104.
Mohave Arms Collectors Association: MACA's meeting is at 6:30 p.m. the last Thursday of the month; the theme of this month's meeting will be the wide-open subject of revolvers. Any gun with a revolving cylinder carrying multiple rounds or charges rotated under a firing device could be considered a revolver. This could range from the "hawglaig" of our Old West to a modern version of a Gatling gun called the Vulcan used today by our military. Who knows what might be there? Come and see! Doors open at 5 p.m. for buying, selling and swapping (first liar doesn't stand a chance). MACA is a group of firearms enthusiasts who normally meet the last Thursday of the month in the clubhouse of the Mohave Sportsman Association rifle range, located at 3155 N. Oatman Highway. For further information, call (928) 681-4476. Special note: due to the fourth Thursday of the month falling on Thanksgiving, the meeting will be held one week earlier on Oct. 19.
Mohave Republican Forum: The public is invited to the Mohave Republican Forum meeting today to hear Arizona Corporation Commissioners Susan Bitter Smith and Bob Burns speak and answer questions regarding what has and is happening with the Arizona Corporation Commission, its position on alternative energy sources, rates, and other matters it regulates and administers. Every individual, family and business are affected by the determinations they are making. This meeting will be held at the Golden Corral in Kingman, 3580 Stockton Hill Road. After going through the cashier, go to the meeting room to the left, after which you can help yourself to a buffet selection. The meeting room should be available by 4:45 p.m. or before and the program begins at 5:45 p.m. or before. There is an admission charge of $2 per person to assist with the meeting costs. For reservations, which are requested and helpful, or for further information, please contact Rita Basinger at (928) 692-4771, ritabasinger@citlink.net; Mary D'Angina at (928) 716-4053, nerah7@gmail.com; or Kathie Sturtevant at (928) 718-0891, kathie2547@gmail.com. Please note: Our meeting changed from Wednesday evening to Thursday evening for this meeting only since Wednesday was Veterans Day with the veterans eating free at the Golden Corral and every seat being needed for that special event. Please pass this information on to others.
The Morning Glories CFIC: Has a new time this year for the meetings. On Nov. 19, we will meet at 9:30 a.m. for refreshments and social time. The meeting will begin at 10 a.m. in the Fellowship Hall at St. John's church, 1730 Kino Ave. Cindy Cox will present her program on sign language. Please bring your items for the Blessing Bags. Morning Glories organization is a community and family interest club, which supports a scholarship program for Mohave County high school students and other local charities. The CFIC Clubs of Mohave County, which includes the Meadview Quail, are proud to announce that we awarded $1,000 scholarships to 10 graduating seniors in May. We would like to welcome new members to our organization. For more information call Publicity Chairman Jeanne Ensign at (928) 757-0474.
Thursday Party Bridge: The winners for Nov. 5 were: first, Jerry Lipson; second, Dorothy Jackson; and third, Gladys Smith.
Wednesday Party Bridge: The winners for Nov. 4 were: first, Leo Martenson; second, Dave Colfer; and third, Carolyn Johnston.
The Women of the Moose: Held its first meeting of October in the new, temporary Lodge building at 1455 Northern Ave. The meeting was well-attended with 37 members. Years of service pins were awarded. Kathryn DeShields and Mary Jean Hejduk received a standing ovation when Senior Regent Sandra Wormell and Recorder Erma Lorion presented them with pins for 35 years of service. Both ladies have either held an office, chaired a committee or been an installing officer every year and continue to actively support the chapter. Moose Charities Chairman Susan Estensen served a buffet after the meeting. The next regular meeting will be held at 6 p.m. Wednesday.