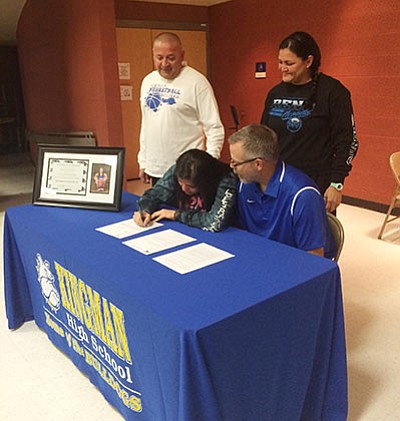 Originally Published: November 13, 2015 6 a.m.
KINGMAN - Desirae Gonzalez put her head in her hands and had to pause for a few moments as the emotion of the moment overtook her.
Gonzalez, a senior at Kingman High School, regained her composure as she has shown she can do many times on the basketball court. She glanced down at the National Letter of Intent to play for the University of Nevada, Reno, put pen to paper and made it official Wednesday at KHS.
Realizing she had reached a major goal in her life, she enjoyed the ceremony with about 30 of her friends and family in attendance.
"I wanted this since I was a little kid," she said. "I knew that, for now, this would be the ultimate goal. Now that I have achieved this, I know in my heart that is time to build higher and expect more."
Gonzalez's basketball prowess has graced the pages of the Miner for years, including when she went to the national finals for the Elks Hoop Shoot years ago.
She averaged a double-double last year with the Lady Bulldogs and led the state in scoring with 29.7 points per game. She also hauled in 10.7 rebounds per game.
Between her parents, Missy and Danny, always coaching and providing her with playing opportunities and grandparents who have traveled many miles to watch her play, Gonzalez holds the commitment her family has given to her close to her heart.
"Of course I did it for myself, but I did it to make my family proud," she said. "This is my payment to them for everything they gave me."
This past summer, Gonzalez played for the Vegas Elite traveling club. It was at a tournament that UNR coach Jane Albright saw the Kingman sharpshooter for the first time.
Albright said at a press conference Wednesday held at UNR that she was there to scout a post player when Gonzalez caught her eye on another court.
The result of that became UNR's only early signing player, the lone wolf.
"We're always looking for the best players," Albright said. "She's instant offense. When you know someone scores 30 points per game, you expect them to be (outgoing). But she is really humble."
Gonzalez chuckled when she heard how Albright found her. The 5-foot-11 Lady Bulldog leader is always prepared to give it her all on the floor.
"There wasn't any time to warm up in the first quarter and then play up to your potential," Gonzalez said about playing at the club level. "You have to go hard from the very beginning of warmups so when it's game time, it's game time."
Gonzalez gives Albright reason to hope the UNR team (9-21) can flip its record.
"Scoring covers a multitude of errors for a team," the coach said. "She plays against a bunch of defenses trying to shut her down, but she keeps on scoring."
Albright told the Reno Gazette that Gonzalez is "a big guard who is instant offense from anywhere on the court."
She may play basketball next year 550 miles away from home, but it's a part of home that the Lady Wolfpack offered and she accepted that has Gonzalez heading for Reno.
"I couldn't have cared less about the record and I couldn't have cared less about the accessories," the senior said. "The one thing I wanted to know was that if I was far away from my parents that I could make a new family. And that's what I found at Reno."
Next year she begins play in the Mountain West Conference, but Kingman has a season to put together this year. And Gonzalez will lead the way for the Lady Bulldogs.
More like this story