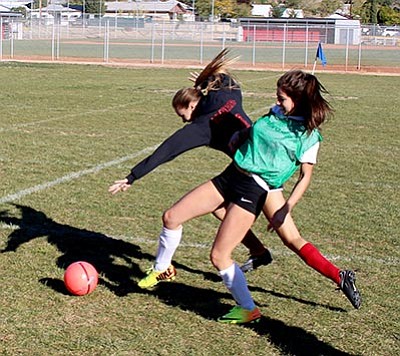 Originally Published: November 15, 2015 6 a.m.
KINGMAN - Both local high school girls soccer teams come into the 2015-2016 campaign in a new division and new section, and each are hoping the changes lead to improvement in the won-loss columns.
Lee Williams went 2-10 in its inaugural varsity season last year, and Kingman went 5-12. Both the Lady Vols and Lady Bulldogs will compete with Buckeye, River Valley, Youngker and Goodyear Trivium Prep for the Division IV, Section I title and automatic berth into the state playoffs.
Lee Williams, with its first senior class, returns a majority of its roster.
"I'm really excited about the lineup we have this year," said LWHS girls soccer coach Tom Poole. "We have seniors for the first time and have freshmen who are very encouraging. I expect us to be a lot more competitive than we were last year."
Poole also said he's expectant of the Lady Vols' forwards and midfielders to be a source of strength because of the unit's chemistry.
"It's a lot better than last year," said senior midfielder Brooke McFarland. "We know each other better and it's going to be strong this year."
Poole and sophomore sweeper/stopper Audra Coffman each realize that communication amongst the players on the pitch could be a downfall for the Lady Vols.
"Not all of us played with each other last year, so communication may be a little weak," Coffman said. "We don't know what leg the others kick with or what side is better."
Poole has seen evidence that the lack of communication that held Lee Williams back last year has stuck around for this year, but he's believing it will change.
"I think it's going to be different this year," the coach said. "It was a problem last year and it is something we need to work on."
Lady Bulldogs to count on seniors
Kingman High moves down to D-IV from D-III where it had struggled in the past. It affords KHS to have a new outlook on a season with the likes of the Prescott and Flagstaff schools off the schedule. The Lady Bulldogs appear to be defensively sound, but they are going to have to find a way to score to win games.
"I expect we're going to be competitive," said first-year KHS girls soccer coach Dave Kopecky. "Not playing those powerhouses gives us an opening. Whether or not we'll take it is what we're going to find out."
Kopecky is delighted with the leadership he's seen from the squad's four seniors - Catherine Angle, Brittany Nelson, Sarah Joe and Samantha Mossor.
Nelson sees the need for the Lady Bulldogs to get acquainted with each other and fast.
"We have a new coach, and a lot of us are new playing together," said the defensive wing. "We haven't established how we play as a team, so that'll definitely be a challenge through our first couple of games."
Nelson, Joe and Mossor each agreed that the Lady Bulldogs' defense is solid, but the offense is a big question mark.
"Last year we had a lot of girls who were good on offense and would attack the goal every chance they got," Joe said. "This year we have new girls who don't know if they should (attack) and end up passing the ball back to the mids."
And that has Kopecky looking at some of the younger girls on the roster for scoring.
"We need some people who are willing to take charge offensively," the coach said. "The more aggressive team wins 99 out of 100 times. That would get us competitive at least."
Lee Williams and Kingman are at River Valley for preseason scrimmages Thursday. The Lady Vols host the Lady Bulldogs in a non-section match on opening day of the season at 6 p.m. Nov. 23.