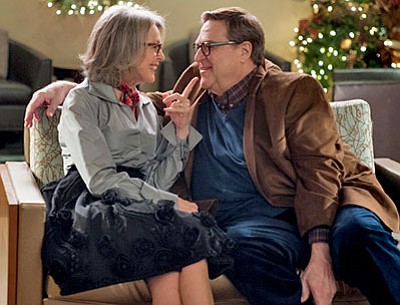 Originally Published: November 16, 2015 6 a.m.
It's been a long time since I've seen John Goodman in a film. Mostly it's been voice-overs for this or that. Add in Diane Keaton, Olivia Wilde and Amanda Seyfried and it sounds like an awesome recipe for a fine film. Top it off with Marisa Tomei and Alan Arkin and you might just have a winner here.
You can have the best seasoning on your turkey but if you fail to cook it everyone will still get sick. I'm afraid that's just how "Love The Coopers" ends up, only without the vomiting
If you can follow the mix-up of disjointed characters and how they all finally come together in this Christmas-themed, can't-we-all-get-along everything-ends-up-roses story, you'll suffer through to the end. You're led through the introduction of about five sets of characters' quick life stories. They are all headed to mom and dad's house (Keaton and Goodman) for Christmas dinner.
One daughter (Tomei) is a thief and we get exposed to the interaction between her and the cop (Anthony Mackie) who is taking her to jail. But not too much exposure because the film jumps to Keaton and Goodman's relationship. Then it jumps to Arkin's relationship to Seyfried who plays a waitress at a cafe Arkin goes to daily because he likes her. Never mind the age difference. I'm sure we all have our favorite restaurant or favorite server, but Arkin introduces, maybe unknowingly, a certain "creep factor" into their relationship.
Throw in Wilde convincing someone she met in an airport bar to pretend he (Jake Lacey) is her boyfriend to be introduced to the rest of the family.
Maybe the movie is meant to symbolize everyday families that have grown up and gone on their own and are so much different than when they were children. Perhaps it shows how characters that are so different can come together because they are family. The ending was typical and foreseeable. Even the humor attempts, which Goodman never took part in, were over the line and more edgy than funny.
Although categorized as a comedy, I didn't find "Love the Coopers" funny at all. My bucket of popcorn was gone before half of the movie was over. I had high expectations and I was seriously disappointed, but the popcorn was good.
"Love the Coopers" is rated PG-13 for adult situations/themes. It lasts a long 107 minutes. I'll charitably give it 1 out of 4 Miners because of the cast.
More like this story