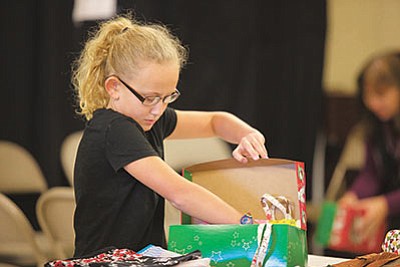 Originally Published: November 17, 2015 6 a.m.
The College Park Baptist Church was packed on Saturday with an assembly line of presents and shoeboxes waiting to be filled.
The church is working with Operation Christmas Child, which takes shoeboxes full of goods to children in underprivileged nations.
Items such as toothbrushes, shirts, sandals and small toys and coloring books are popular items for the boxes.
Colorado River Ford and Route 66 Auto Sales donated money to help purchase the items for the boxes, and Big 5 Sporting Goods donated more than 100 empty shoeboxes to help fill.
The group will be accepting shoeboxes all this week at First Southern Baptist Church, 3120 Hualapai Mountain Road in Kingman. For more information, call (928) 897-9324.
Boxes packed in Arizona will be going to Mongolia, Bangladesh, India, Philippines, Peru and to Native American reservations.