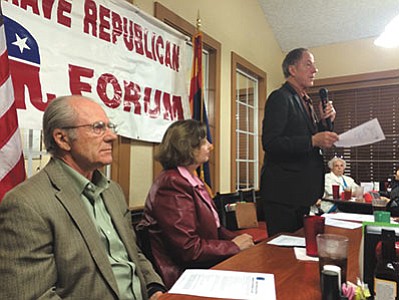 Originally Published: November 18, 2015 6 a.m.
KINGMAN - Expanding Arizona's energy source portfolio is extremely important, and one of the emerging challenges is how to manage excess energy from roof-top solar systems, Arizona Corporation Commissioner Susan Bitter Smith said Nov. 12.
Solar energy is taking up an increasing amount of time for the ACC, which regulates and sets rates for electric utilities and private water companies in Arizona, among its other responsibilities.
People are creating excess energy and selling it back on the "grid" at market rate, Smith said.
"It's a balancing act, but it's very hostile," the commissioner told about 30 people attending the Mohave Republican Forum at Golden Corral. "Who should be given incentives and who should not?"
Arizona is under pressure from the U.S. Environmental Protection Agency to reduce carbon emissions to 0.70 parts per million, down from 0.75 parts per million, and it's going to be difficult to achieve those new, lower standards, Smith said. The push is toward solar and wind.
"We have a huge target on our back," she said. "We have many coal-generating plants like the Navajo Generating Station. They have had retrofits and carbon emissions reduced to zero, but the EPA says what we've already done doesn't count."
Arizona filed a lawsuit against the EPA, challenging the government's role in telling the state how to reduce carbon emissions, and has also submitted an implementation plan to the EPA, Smith added.
Commissioner Bob Burns said there have been huge changes in the way energy is distributed over the last 10 years.
He talked about two former employees of Arizona Public Service who got together and built their own power plant that uses cow manure from a cluster of dairies in the southwest Phoenix valley. They covered two lagoons with a membrane that basically captures methane gas from the manure, which is then burned to generate 2 KW of power.
By law, they're required to deliver the power to APS, which serves 1.2 million electric customers in Arizona, at the lowest possible cost.
"It just concerns me that if we have that kind of ingenuity out there and people willing to invest in it, we ought to make it as user-friendly as we can," Burns said.
Technological advances made by companies such as Tesla are starting to drive down the cost of batteries, just as solar panels have become more affordable, Burns added.
The cost of infrastructure for transmission is included in electric bills, so there's a cost shift of about 23 cents a month for non-solar customers, he said.
When a utility company comes to the ACC to request a rate change, it usually has a dollar amount attached for return on investment, Burns noted. Commissioners enter into negotiations with the company on how much it costs to generate and distribute the power.
"The utility has a number for return on equity, our staff comes back with a number, and sometimes an administrative judge has another number," Burns said.
Utilities must come in with a "test" year, and ACC auditors look at how much money the company spent to generate and distribute electricity, and the rate is based on that cost, he said.