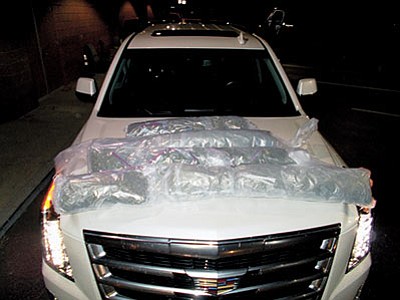 Originally Published: November 18, 2015 6 a.m.
KINGMAN - Three Texas men were arrested on marijuana and other charges in two separate incidents last week.
The first occurred at about 20 minutes after midnight Nov. 11 when Mohave County Sheriff's deputies pulled over Fredrick Michael Kennedy, 56, of Bryan, Texas, on Interstate 40 at milepost 49.
Kennedy was driving a rental truck with an inoperable headlight when he was pulled over. Deputies reportedly smelled marijuana in the cab and questioned Kennedy about the odor. He reportedly handed over his hat, which allegedly had fresh marijuana residue on the brim. He also said he had a marijuana plant in the back of the truck, according to sheriff's office spokeswoman Trish Carter.
He unlocked the rollup door and deputies allegedly fount the plant, along with seven grow lights, a water tub with plumbing and two filters. He also had $8,000 in cash, according to Carter.
Members of the multi-agency Mohave Area General Narcotics Enforcement Team responded and Kennedy was taken into custody without incident.
He faces felony charges of money laundering, production of marijuana and possession of drug paraphernalia.
The second incident occurred one mile away and nearly 21 hours later when deputies pulled over Joshua Ryan Thompson, 30, of San Antonio and William Edward Thomas, 28, of Austin on Interstate 40 at milepost 50.
Deputies smelled marijuana and Thompson, the driver, reportedly told them they were en route home from California. He allegedly admitted there were 16 pounds of marijuana in the vehicle.
A search allegedly revealed 26 one-gallon plastic bags containing 18 pounds of pot, packaging material, a vacuum sealer and bags. The men were taken into custody and charged with transportation of marijuana for sale, possession of marijuana for sale and possession of paraphernalia. Thompson also had a fugitive from justice felony warrant in Texas.