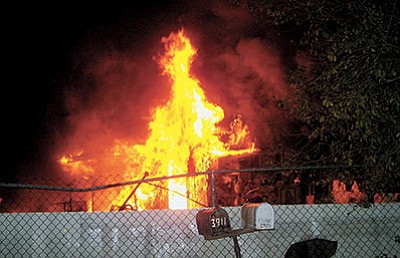 Originally Published: November 20, 2015 6:02 a.m.
KINGMAN - Three adults and a dog were displaced when a home burned Wednesday in the 3900 block of Northfield Avenue.
Combustible items were left too close to a pellet stove, caught fire and quickly spread throughout the manufactured home and built-on addition, according to Northern Arizona Consolidated Fire District Battalion Chief Jason Scott.
Flames and heavy smoke were coming from the home when firefighters arrived at about 10 p.m., said Scott. The adults and dog were out of the home and uninjured, but the fire was destructive, causing an estimated $26,000 loss. Red Cross responded to assist.
Scott said the fact the occupants were hoarders created a very dense fire that burned for an extended period. That wasn't the only impediment firefighters faced.
"We had some unruly people on scene," said Scott. "There were about 30 bystanders trying to give orders. They were belligerent and yelling profanities.
"It was like a live taping of the 'The Jerry Springer Show.'"
A Mohave County Sheriff's deputy did a "great job" dealing with the crowd, said Scott.