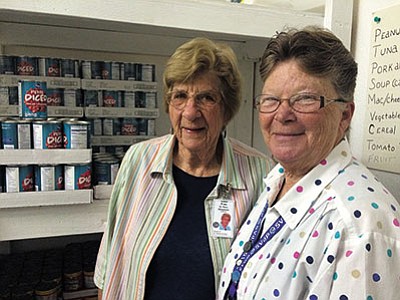 Originally Published: November 22, 2015 6 a.m.
KINGMAN - Karen Manion is organizing Thanksgiving dinner for about 400 people expected to show up at Redneck's BBQ for the annual feast served by volunteers from the Society of St. Vincent de Paul.
Individuals and businesses from throughout the community have donated 36 turkeys and all the extras to the Catholic-based charity, and Redneck's is donating the restaurant for cooking the food, covering all utilities and related expenses.
The dinner is free and open to the community from 11 a.m. to 3 p.m., and representatives from shut-ins can pick up dinner to go.
No questions are asked about assistance qualifications or needs.
"It's all up to God," said Manion, vice president of St. Vincent de Paul, St. Mary Conference, in Kingman. "If they come in and say they need it, they get it. We don't judge. We don't ask how much they make. That wouldn't be the St. Vincent way."
Local charities take care of the poor, the hungry and the homeless all year long, but demand always increases during the holidays, said Troy Palmer, director of the Salvation Army in Kingman.
"It always seems to run up every year," he said. "We will get an influx of people in the winter just because of our location on the highway (Interstate 40). This community is always in need."
The Salvation Army collected 140 turkeys and food baskets to be picked up by needy families this week.
"During the holidays we're more keenly aware of the elderly and families with kids," Palmer said. "It's always easy to talk about families with needs, but we forget about the elderly on fixed incomes."
The Salvation Army also has its Angel Tree set up at Mohave County Sheriff's Office and Wal-Mart for people to buy toys and clothes for kids on Christmas.
Cornerstone Mission
Cornerstone Mission served 43,875 meals from its soup kitchen in 2014, including more than 11,000 sack lunches, and packed 911 food boxes for the homeless population in Mohave County.
The mission at 3049 Sycamore has about 200 volunteers who work in the kitchen, pick up food around town and assist with office duties and the clothes closet.
Cornerstone typically serves meals to about 70 people every day between 4 and 6 p.m., and will be extending the time from 3 to 6 p.m. on Thanksgiving.
The soup kitchen once served triple that number, but other charities have taken some of the load off the mission, said Lisa Beauchamp, executive director and founder of Cornerstone.
"There's more help out there, and that's awesome," she said. "During the holidays it's really nice."
Beauchamp said she has seen a continuous increase in homeless and hungry people, but it's not just in Kingman and Mohave County. It's all across the country, especially in warmer regions, she said.
"We don't have enough jobs for one thing, and affordable housing," the mission director said. "It's a snowball. No job, you can't pay for things and you end up homeless, and that's how it is all over the country."
The food's pretty good at Cornerstone Mission, said Paul Levesque, vice president and board director.
"I couldn't ask for it to be any better, and the state has been here and couldn't find anything wrong with the kitchen," he said.
About 20 people toured Cornerstone Mission on Thursday as part of Homeless Awareness Week and the mission's 15th anniversary.
Food bank
Kingman Area Food Bank collects and distributes food boxes and serves as a "back door" warehouse for local charities and churches.
The food bank distributed more than 300,000 pounds of food last year and served 34,500 food baskets, said Noreen Frisch, who took over as executive director after the passing of Betty Kahlor earlier this year.
About 120 clients come through the front door every day to pick up meat, bread, produce and anything else that comes in, Frisch said.
"We give out quite a basketful of food. Right now we're in turkey mode, giving out cranberry and all the fixings," she said. "It's holiday time. It picks up in the winter time. Why? I don't know. That always happens at the end of the month."
Anyone who is hungry and down on their luck is entitled to receive a food box. No income guideline is required, though requests for assistance are compared with federal poverty guidelines for eligibility.
Documentation of services is used to project the number of clients the food bank anticipates to serve.
"That's the important part here, the clients," Frisch said. "Second is other agencies."
Kingman Area Food Bank's volunteer staff works hard to make sure the organization stays operational. The agency at 2930 E. Butler Ave. is holding a parking lot sale from 8 a.m. to 2 p.m. on Dec. 5.
Anyone who brings 10 cans of food will receive tickets to a comedy show at the Ramada Inn's Canyon 66 lounge.
Turkey Tuesday
St. Vincent de Paul organizes food drives and operates a thrift store at 218 E. Beale St. to provide clothing and furniture for the needy.
Each year, St. Vincent partners with Bashas' grocery stores for Turkey Tuesday, which is Nov. 24. Volunteers will be at Bashas' to accept turkeys and monetary donations. The statewide goal is to feed 20,000 struggling families on Christmas.
Jamie Bethune, manager of community drives and events for St. Vincent in Phoenix, said the need is huge, especially at Christmas. The charity uses the 2-1-1 referral service, similar to calling 9-1-1, in which people are screened and partnered with the closest and most convenient service that meets their needs.
"Our volunteers meet with the family and do an assessment of their needs," Bethune said. "People might need help with a one-time utility bill. Some people have enough food and the bills are paid, but Christmas is just overwhelming.
"We're really trying to get people back to self-sufficiency. We give people a fishing pole, not the fish," she said.
Giving spirit
Between all the agencies, Kingman as a community steps up and takes care of as many people as possible during the holidays, Salvation Army's Palmer said.
"It see it every year," he said. "People who provide actual meals on the day of (Thanksgiving and Christmas). I'm proud of that. Kingman does pretty well."
The Kingman Golden Valley Association of Realtors raised $7,000 in member donations for the various food banks this year, Association Executive Robin Day said.
Real estate agents paid from $25 to $100 for symbolic loaves of bread, peanut butter and jelly, and designated donations to their chosen charity.
The association previously held food drives, but agents realized that charities have more buying power with retailers such as Wal-Mart and Smith's, and they can fill specific food needs, Day said. Plus, it required hours of manpower collecting canned goods around town.
"Here, we hand over a check and they use it to the best of their ability," she said. "Let's say they can go to Smith's and buy two cases, where we can only buy one."
It takes people like Al and Bonnie Burnham to make it happen. They've been volunteering at Cornerstone Mission since January.
"I'm retired and I told the guys I'd pray and go where God leads me and this is where he led us," Al Burnham said. "Until he says differently, we'll be here."