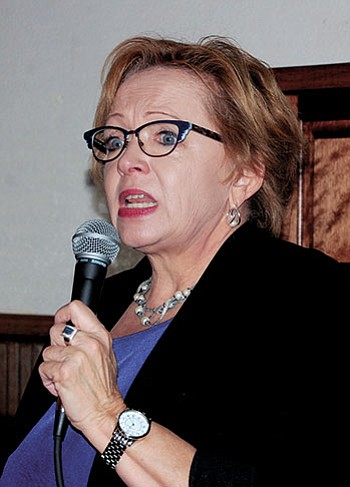 Originally Published: November 23, 2015 6 a.m.
KINGMAN - Life, marriage and the family, and religious liberty were topics Cathi Herrod of the Center for Arizona Policy discussed Nov. 16 with an overflow audience at the Conservative Republican Club of Kingman.
Herrod, president of the powerful Center for Arizona Policy, said the evangelical Christian group's mission is to promote social conservatism in the state, something it has done for two decades with an impressive success rate, with more than 100 bills it lobbied for signed into law.
For Herrod, the next presidential election is "the most critical of our lifetime. Freedom must be fought for," she said. "And freedom is what is at stake."
The center opposes abortion and the work of Planned Parenthood, same sex marriage - it played a role in Arizona defining marriage as between one man and one woman in 2008, which has since been struck down - and stands against legislation that has occurred in other states allowing doctors to assist the terminally ill end their lives.
She said the center will also oppose a possible ballot question next year regarding recreational marijuana.
On abortion
"Abortion stops a beating heart," Herrod said. "And it also hurts women. It breaks a woman's heart because we've seen, repeatedly, that a preborn child is a human being."
She said the group helped pass a law that requires doctors to advise woman seeking a chemical abortion that there is a way to reverse the effects of the drug, and that advisement must be given within 24 hours.
"Whether you're pro-choice or pro-life, women need to know the abortion pill can be reversed."
She acknowledged that critics have called the reversal "junk science," but she also said mothers gave birth to healthy babies after taking the medicine.
"My point is, don't women need to know this?" she said.
Herrod said the center has played a key role in electing the most "pro-life Legislature" in recent state history, in large part due to the voter guides it provides that advise people how to vote for conservative candidates.
And there are statistics, she said, that show a difference has been made. There were roughly 14,400 abortions performed in Arizona in 2011, she said. The number dropped about 1,500 in 2014, to 12,900, according to Herrod.
Herrod also attacked Planned Parenthood, saying videos that purportedly showed executives at affiliate Planned Parenthood sites selling tissue from aborted fetuses was "horrific, vile and evil."
While there is a continuing dispute over the veracity of what's on the videos, Herrod said the center paid for an ad attacking U.S. Rep. Ann Kirkpatrick, D-Ariz., who reportedly accepted more than $17,600 in campaign contributions from Planned Parenthood.
She did say, however, that local and state efforts to take away roughly $500 million in federal funding the group receives each year would fail, as "defunding is a federal issue."
None of that money can be used to pay for an abortion, but instead goes to other care for mostly poor women on Medicare.
Ending a life
California Gov. Jerry Brown became the latest state leader to sign physician assisted suicide legislation that allows doctors to prescribe lethal drugs to people who want to end their lives due to terminal illness. Oregon was the first state to pass such a law, called Death with Dignity, and hundreds of people have ended their lives since it passed in 1997.
Arizona has a law that specifically criminalizes assisted suicide. Herrod said a majority of residents support allowing people to end their lives.
"We will fight that at the ballot box," she said. "We will never support an end of life measure." Herrod said people are often told they have only a few months left to live, and two years later they are still alive. She also believes Arizona's attraction for retirees is troublesome. "With our elderly population, we are a target state," she said.
Marriage and family
Herrod said the Center for Arizona Policy played a key role in pushing through a 2009 state law that explicitly gives parents the fundamental right to determine how their children are educated and how their health care is provided.
The issue, of course, is school choice.
"How a parent educates a child is between the parent and God," she said. "We live in one of the strongest states for school choice."
Herrod also said the center opposes any attempts by the government to test students or otherwise regulate private schools or parents who homeschool their children, or regulate how and what they are taught.
Marriage should always be between one man and one woman, she said, and the state law that made it so lasted for seven years before five "activist" U.S. Supreme Court justices overturned the Defense of Marriage Act, she said.
"Don't take marriage out of our laws," she said, as a marriage between one man and one woman "is still the best foundational cornerstone." Herrod said Americans must restore the meaning of marriage.
Religious freedom
"More and more, those who fought for marriage equality were married on Sunday and fired on Monday," she said. This response to same-sex marriage led to the push to enact non-discrimination laws in Phoenix and Tempe, Tucson, Flagstaff and Sedona.
Herrod cited bakers and florists who were named in lawsuits by same-sex couples when they refused to provide flowers or bake cakes. A grandmother in Washington state was sued for "everything she has," after telling an old friend who was gay that her belief in Jesus Christ precluded her from providing flowers at his wedding, said Herrod.
The government, she said, "is increasingly interfering in people's beliefs" and laws are being used to deny religious freedom "by forcing people to choose between their livelihood and their faith."
Herrod said the issue is at the tipping point. "We're at a critical stage, whether you're a person of faith or not, there's more at stake. It's not just religious freedom, but freedom itself."
Churches who refuse to perform same-sex marriages might see their tax-exempt status taken away, for example.
"We're in choppy waters," she said.
Handicapping the election
Herrod took questions after her talk and one seemed to take her off guard - and led to a moment of levity.
Her microphone continuously cut out during her talk, and when someone asked her what she thought of Republican presidential contender Donald Trump, Herrod paused and then said, "Oh, my microphone isn't working. I can't answer that question."
After the laughter died down, she said the Center for Arizona Policy isn't saying who to vote for, but she did encourage attendees to look at Trump's record.
"We all like to tell it like it is, but he tears into (fellow candidates) Marco Rubio and Ben Carson. You have to listen to what he's saying."
And that led to the broader question: Can conservatives elect a candidate who meets their needs?
"I share your frustrations with past candidates," she said.
The only choice she said, is to go "with the most conservative candidate who is electable."