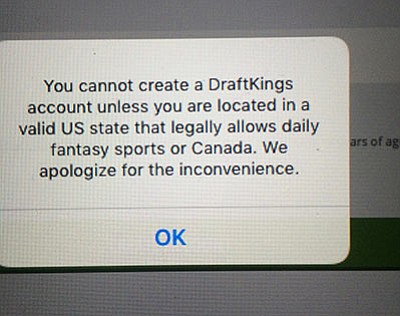 Originally Published: November 24, 2015 6 a.m.
KINGMAN - While daily fantasy sports companies DraftKings and FanDuel battle it out with attorneys general in New York and Massachusetts, Arizona was one of the original five states that banned these companies from doing business in the respective states. Nevada has since banned its residents from playing for money and many more are starting the process of legislating the sites.
Arizona has the same reason for keeping these DFS companies from operating in the state as the companies themselves have for wanting to get in - dollars.
Voters in 2002 approved Proposition 202, an initiative called Arizonans for Fair Gaming and Indian Self-Reliance. It approved gambling on Indian lands that would remain illegal off of those lands. In return, the tribes who had gambling would return 1 to 8 percent of their gross gaming revenue to the state.
However, if the state ever approves of gambling off tribal lands - for instance, daily fantasy sports online - then the amount of money returned to the state from Indian gaming would be reduced. It doesn't appear the state is willing to gamble away tribal money for DSF money anytime soon.
A fantasy league put together by friends and co-workers can be found to be legal as a form of "social gambling." Kelly/Warner Law, PLLC in Scottsdale published an essay in 2012, "Online Fantasy Sports Leagues: Are They Legal In Arizona?"
For these fantasy leagues, and even filling out the brackets in an office pool for March Madness, to remain legal there are "four golden rules of social gambling" that must be adhered to, according to the essay. They are as follows:
1) No other player receives any benefit other than winnings, 2) No non-player receives any benefit from the games, 3) None of the players are younger than 21, and 4) All of the players compete on equal terms with each other.
This type of gambling is a huge market. The Fantasy Sports Trade Association reports that there are 56.8 million players this year, up from 27 million in 2009.
Kingman resident Allen Windle is one of those 56.8 million players. He is also one of the newer players in fantasy sports with this being his third season. He plays in a league with nine others and isn't interested in playing on DraftKings and FanDuel.
"I think it's a rip off," Windle said. "It's the same guys winning. These guys who own the site are the ones winning it all, like a Ponzi scheme."
There might be weight behind Windle's words. As a result of FanDuel suing the state of New York in federal court over whether DSF is gambling or games of skill, deadspin.com found rules that FanDuel employees were told to follow if they gambled on other DSF sites. One of the rules told the employees not to make the top five on any DSF site's leaderboards.
"If fantasy football is played to make money, then by definition it is gambling," Windle said.
Whether or not FanDuel wins its case against New York - and thus prove DFS are games of skill and not chance - it's not going to make a difference here in Arizona.
Go ahead and form that league among friends, but playing on DFS sites will remain illegal.