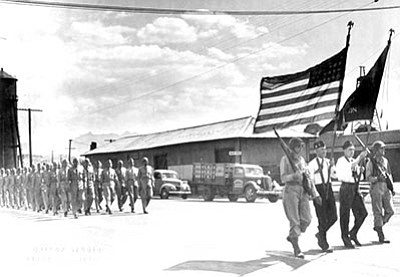 Originally Published: November 26, 2015 6:02 a.m.
Editor's note: The Dallas Cowboys' record on Thanksgiving through 2014 is 29-17-1.
Thanksgiving Day, at least for as long as I can remember, has been a tradition-heavy holiday. You have the Thanksgiving Day Parade. You have the Dallas Cowboys losing. You have presidents pardoning turkeys. It's a time for family and great food, and it's far and away my favorite holiday of the year.
In 1945, Americans had a little more to be thankful for than normal. World War II was over, and the world was transitioning into peacetime. The front pages of the Mohave County Miner in October and November featured soldiers coming home from overseas. It was a time of relief, and a time of sorrow, for many families.
An advertisement from Central Commercial on Thanksgiving captured the feelings of Americans almost perfectly:
Let us give thanks for the blessing of peace. Let us give thanks that we remain a nation of free people. Let us give thanks that we are helping to free all people and that ours is the privilege to give to those less fortunate from the plentifulness of our land. Thanksgiving this year will be one at which reunited families bow their heads in gratitude and prayer...prayers of thankfulness for having lived in a land that escaped the ravaging hand of a deadly enemy - a land whose brave sons and daughters fought and died that truth, humanity and righteousness might triumph over deceit, cruelty and treachery.
Let us open our doors this Thanksgiving to service men and women at nearby posts and bases. And in the name of all men and women in service show our thankfulness by buying Victory Bonds that will speed the time when they can all enjoy thanksgiving with their own loved ones at home.
Today our flag flies victoriously over a vanquished enemy. On this Thanksgiving, above all, our first since the end of a tragic and bestial war, there is much for which to be grateful - much for which to thank the Almighty. And those of us who are fortunate enough to have our loved ones home, in our joy, let us not forget those less fortunate, whose loved ones will never return - those who gave their lives in the true spirit of Thanksgiving in America might live on forever and shed its blessing and its bounty all over the world.
•••
At the time, even during a holiday like Thanksgiving, War Bonds were still a key issue for Americans. They still had a war to pay off, and the editor of the Miner tried to keep Mohave County citizens going even though the war was over:
Mohave County has an exceptionally good record for fulfilling war bond quotas regularly and in every important drive which comes along. However, unless local buyers snap out of their lethargy it seems that the victory loan drive will fall far short of the $400,000 goal imposed by the treasury department.
With the drive scheduled for completion on the anniversary of Pearl Harbor, sales to date have little more than scratched the surface. Mohave county must wake up in a hurry if we are to continue to hold the proud record that past drives have given us.
The war is won but it isn't paid for. There is still the desperate need of millions of dollars if we are to wind up the job in the manner in which it should be completed.
•••
I jumped ahead 20 years, to 1965, to see what a normal Thanksgiving looked like in Kingman. If you've been into any grocery store in the last week, you've seen the sales they put on for the holiday. I was able to find a full-page ad from Safeway in 1965 and calculate what a decent Thanksgiving dinner would cost.
A dinner complete with fresh Arizona-grown yams (10 cents per pound, 5 pounds), cranberries (5 cans for $1), pumpkin pie (29 cents per pie), salad (10 cents per pound of lettuce, 5 pounds), and a 20-pound fresh turkey (47 cents per pound) would run a family around $12 total ($90.31 when you consider inflation).
Today, a similar dinner would run about $32, minus the stuffing and the extra pumpkin pie you'd have to buy because your nephew decides to stick his fingers in it.