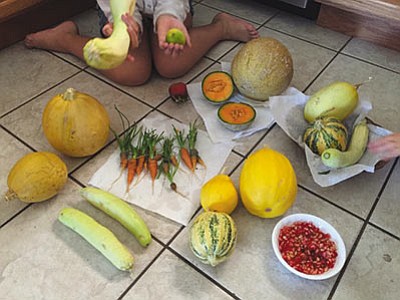 Originally Published: November 27, 2015 6 a.m.
American Legion Family of Post 14: Happy Thanksgiving to all our Legion family and to our communities. This week's Fiesta Friday will feature ham and bean soup, turkey and gravy, twice-baked mashed potatoes, from-scratch cranberry sauce over stuffing waffles (yes, stuffing waffles), and some kind of pumpkin dessert. Serving time is from 5-7 p.m. unless the food is gone before then for a donation of $6 per plate. Saturday will be your final opportunity to drop off items at the Post, 225 Oak St., for this year's ALA gift shop at the VAMC in Prescott. Gifts may be purchased or handmade, but must be new. Gift wrapping paper, tape, gift tags, clothing and toys are most welcome. Our members will be delivering the items on Sunday and helping to set up the shop.
Belles of St. Mary's: And so we ended the church liturgical years Sunday last with the feast of Cristo Rey (Christ the King). Pope Pius II added this calendar designation in 1925, and it was situated accordingly in 1970 to the last Sunday in ordinary time. We are to contemplate the Kingship of Christ throughout the universe - St. John Paul II pointed out the paradoxical "not Earthly logic" embodied by Christ's power of love and service (witness to the truth) as He conquered Satan with His death on the cross. Heavy stuff, right? And we Belles are to entrust these truths to our succeeding generations - our primary objective! Thanksgiving weekend - after many prayers of praise and thanksgiving to our God, the famous Belles Contest Baskets will be ready for viewing after all masses. We need your support. These moneys are expended on behalf of our parish. Then we roll right into St. Vincent de Paul "grocery bugs" for Christmas distribution to the needy. Hand out: Dec. 5-6 - collection of filled bags: Dec. 12-13. This year's chairman of events is Marlene Tidwell; in spite of her soulmate's medical setbacks, she will lead us in our efforts to do the Lord's work. Blessings on them. Let us all embrace this magical and holy time of the year in spite of world mayhem. Trust in our all-powerful God and Creator. Let's spend some extra time on our knees.
Branch 260 Fleet Reserve Association meets at 1 p.m. the second Saturday of each month at VFW Post 2555, Golden Valley Highway 68 and Colorado Road.
Brunch Bunch Motorcycle Riders: The Brunch Bunch has no dues, no officers, no paperwork, no egos - we just ride Sundays and Wednesdays and have fun with like-minded friends. Meet at I-40 Exit 48 Chevron, 777 W. Beale St. at 8:30 a.m. Kickstands up at 9 a.m. For questions or information, contact Harley at (928) 530-2555 or visit us online at harley3787.wix.com/brunch-bunch-riders.
Cactus Cuties Lady Bikers Chapter: Interested in joining other lady motorcyclists with common interests of motorcycles and riding? There is a new Women in the Wind-Cactus Cuties Chapter in the Kingman, Golden Valley, Bullhead City and surrounding area! We meet the first Sunday of each month at 10 a.m. at Peggy Sue's Diner, 4305 Highway 68 in Golden Valley. Check out our website at www.womeninthewind.org or contact us at witwcactuscuties@yahoo.com or (702) 624-1160. We are also on Facebook: Women in the Wind - Cactus Cuties Chapter.
The Cerbat Garden Club welcomes guests at its meetings on the second Wednesday of the month from September through June. The garden club meets from 10 a.m.-noon in the fellowship hall of St. John's United Methodist Church at 1731 Kino Ave., Kingman. Come join the Garden Club at our Christmas party on Dec. 9. There will be a potluck brunch, white elephant gift exchange and entertainment provided by local musicians Barbara Pike and Miriam Lee. For more information, call Sandy at (928) 692-2778 or email us at cerbatgc@gmail.com. Visit our Facebook page and website www.cerbatgardenclub.org.
Fraternal Order of the Eagles: Aerie meets first and third Thursday each month; officers 6:30 p.m., general 7 p.m. - all members welcomed. Auxiliary meets second and fourth Tuesday each month; officers 6:30 p.m., general 7 p.m. - all members welcomed.
Friday Duplicate Bridge: the winners of the Nov. 20 games were: first, Jim Blaschak and Jerry Lipson; second, Gladys Smith and Coie O'Malley; third, Bryan Carlson and Donna Blaschak; and fourth, Shirley Lantz and Sandy Miles.
The Friends of the Golden Valley Library: will meet at 1 p.m. Dec. 5 at the Golden Valley Library located at 3417 N. Verde Road. Election of officers for 2016 will be held. Come and support your community library. If you want to be a friend it's $5 a year for individuals and families and $10 for businesses. A lifetime membership is $100. Meetings are held the first Saturday of the month at 1 p.m., except for the summer. Applications are available at the GV library, but you don't have to be a member to come. The library is open Saturday from 10 a.m. to 1 p.m., Tuesday from 9 a.m. to 3 p.m. and Thursday from noon-6 p.m. The phone number is (928) 565-2989. The next book sale will be in January. If you have books to donate, drop them off at the library at the address above during business hours, or phone for pickup. We thank the Miner and the community for all your great help.
The Friends of the Library-Kingman: We are having the best book sale in Kingman that benefits the Kingman library and is sponsored by the Friends of the Library-Kingman. It will be held at the library at 3269 Burbank St. from 6-7:45 p.m. Dec. 3 (which is our preview sale for members only, but you can join the Friends on the spot and the Book Nook inside the library will be, as always, open to the public). There will not be an outside sale, but the Book Nook will have books from the outside sale. On Dec. 4, the sale goes from 9 a.m. to 4:45 p.m. and on Dec. 5 from 9 a.m. to 3:30 p.m. We have a huge variety of new and used hardback and paperback books including fiction, non-fiction, reference, children's, young adults, adult large print, magazines plus audios and videos. The sale is held in the library program room and the Book Nook which is inside the library. We also have a blowout sale of five books for $5 in the program room from 1 p.m. to closing on Saturday afternoon. Come join us and support your local library. Remember, books make great Christmas gifts!
Kingman Area School Retirees Association: A Christmas Potluck luncheon will be at Barb Fuller's home on Dec. 15. Last year's Holiday Food Drive netted 65 pounds of food for the Kingman Food Bank. President Linda Kocher has issued a challenge to members to double that amount! Check out those sales fliers this week, members, and help fill the shelves at the food bank. Our meeting in October was filled with information, calls to service, and reminders of entertainment available to all of us during this holiday season. Christine Meisenheimer and Gail Salmon of the Kingman Area Literacy Program gave a brief presentation and asked for volunteers. Steve Poe and Janet Fee caught us up on pensions. Gardeners in the group may help out in the pre-school program at the Academy. Christmas concerts by the chorus and orchestra on Dec. 5 and Kingman Concert Band on Dec. 12 should keep us full of holiday cheer and humming some festive tunes! All in all, we've had an active, successful year, with an average of 32 members attending meetings, money raised and disbursed as scholarships, and lots of visiting and fellowship. If you are a retiree of a school district and would like to join our group, contact Linda or Steve Kocher at (928) 753-1440.
Kingman Elk's Lodge No. 468: meets every second and fourth Wednesday at 7 p.m. The Elks Charity Ball is Dec. 5 with cocktail hour at 5 p.m. and dinner at 6 p.m. Tickets are $25 per person and are available at the Lodge now. Dinner is your choice of beef tri-tip or chicken cordon bleu. Dress is formal/semi-formal. Proceeds fund the 100+ Christmas food baskets we deliver throughout the Kingman area on Christmas Eve morning. Bingo is every Thursday starting at noon. The Bingo committee is donating $1 for every person who plays Bingo through Dec. 3 to help purchase turkeys for needy families as part of our Christmas Basket program. Doors open at 10 a.m.
The Mohave Community Choir: We are practicing for the Dec. 5 Christmas concert from 6:30-8 p.m. Thursdays at the LDS Church on Rutherford Street. All who like to sing are invited. The choir is looking for men and women ages 16 and up to fill all parts: soprano, alto, tenor and bass. Come and join us. For further information, contact Andy Campagnuolo at (928) 757-5104.
Teamster Retirees and Associates: The group meets the first Wednesday of each month at 302 Monroe St. (Moose Lodge) in Kingman. Friendly people, good conversation and food. For more information, call (928) 692-1071.
Thursday Party Bridge: The winners for Nov. 19 were: first, Coie O'Malley; second, Gladys Smith; and third, Julia Caughlin.
Wednesday Party Bridge: The winners for Nov. 18 were: first, Leo Martenson; second, Barbara Gracin; and third, Julia Caughlin.
Whistle Stop Railroad Club: The club is pleased to announce that the Kingman City Council has granted its request to expand the Kingman Railroad Museum into the adjacent, unoccupied suite. We appreciate the Council's action on our behalf. The club opened the museum in 2012 and has since filled the 1,380 square foot room to maximum capacity. In the coming months, we are going to be able to add new features and more displays and exhibits. Meanwhile, bring your holiday visitors to the museum to see what we already have to offer. In addition to railroad artifacts, historic displays, and memorabilia, the museum has three exceptional model railroads that can be seen in operation. The museum is located at 403 E. Andy Devine Ave. in the restored Santa Fe Railroad depot and is open Wed. through Sun. from 10 a.m. to 4 p.m. For more information, call the museum at (928) 718-1440, visit our website www.kingmanrailroadmuseum.org or see us on Facebook.