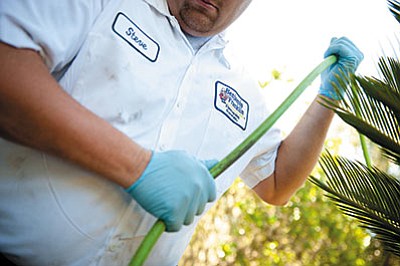 Originally Published: November 27, 2015 6 a.m.
KINGMAN - The day after Thanksgiving is consistently the busiest day of the year for plumbers, with a 50 percent increase in calls coming in for backed-up sinks and drains and jammed garbage disposals.
A lot goes into preparing Thanksgiving meals, and that means a lot of scraps end up going down the drain and into the plumbing system.
It creates extra work for plumbers, said Larry Thornton, owner of Benjamin Franklin Plumbing in Kingman. Calls for service more than doubled the day after Thanksgiving for the last two years, he said.
"All the people are in the kitchen cooking and stuffing potato peels and apple peels down the disposal," Thornton said. "Maybe things were just getting by and now there's a lot of people and heavy usage. I think that's why it's so busy. People are using plumbing more on that one day."
Don't put vegetable peels down the garbage disposal and especially don't pour grease down any drains, even with running hot water, he said.
Baby wipes are really bad for toilets, and toilet paper tends to be used in excess when family members and guests come over for dinner.
Sometimes, it's just too much for the drains to handle.
Pat Yarush, supervisor at Truelove Plumbing, said he's pulled some pretty weird things out of the toilet drain, from cell phones and kids' toys to someone's dentures that got knocked off the counter.
Business is kind of "hit and miss" on Thanksgiving, often depending on the weather, he said. People should gear up for holiday events by taking care of slow drains and faulty fixtures.
"They have an increased load on the septic and typically the weather's colder, so you have pipe issues," Yarush said. "People need to pay attention to that."
When overnight temperatures drop below freezing, as predicted for the rest of this week, exposed outside pipes should be wrapped with a towel or foam insulation, if possible. Leave a small drip in the faucet.
Heavy vegetable skins, peelings and bones are hard on the drains, and it's not always easy to run a "snake" or rod down the pipe, especially on older homes without access pipes for cleanout, Yarush said.
A recent survey by Benjamin Franklin Plumbing found the majority of homeowners (65 percent) try to fix plumbing problems themselves rather than calling a plumber.
Many plumbing issues can be avoided by following these simple tips:
• Use water and lots of it. A common mistake many people make is not using enough water with the disposal. Run water for more than a few seconds when using the disposal. Water keeps the food moving through the drain and helps flush it out.
• The trash can or compost pile is best. Fats, bones and vegetable peels can clog drains and damage the disposal. When fats and grease cool, put them into a disposable container and throw it in the trash. If you have a compost pile, that's a good place for peels. Throw out anything that you can hold in your hand.
• Preventative maintenance can pay off. If water drains slowly in your showers or sinks, and it's been a while since you've had a plumbing inspection, now may be a good time to call a trusted plumbing professional. They can spot potential trouble areas. They can also help winterize your plumbing system for the colder weather. Cold temperatures can also put more stress on your pipes, drains, outdoor hose bibs and water heaters.