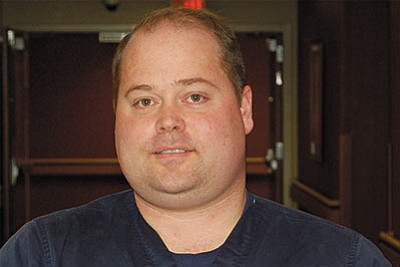 Originally Published: November 29, 2015 6:02 a.m.
KINGMAN - Theil Cooke Jr., a registered nurse in Kingman Regional Medical Center's emergency department, earned the 2015 Honoring Our Professionals for Excellence Caregiver Award from the Arizona Hospital and Healthcare Association.
Each year, the association presents the HOPE Caregiver Award to recognize an exemplary health care professional within the state who demonstrates extraordinary commitment to providing quality care to patients and their families.
Kingman Hospital Inc. Board Chairman David French accepted the award on Cooke's behalf during AzHHA's annual membership conference on Oct. 23. Among scores of nominees statewide, Cooke is the first health care professional from the Kingman area to receive the honor.
Cooke was nominated for the award by his supervisor, Emergency Department Clinical Manager Jennifer Rohler.
In her recommendation letter, she described Cooke's commitment to his patients and their families, stating, "Patients rave about Theil's calm demeanor and genuine kindness. He consistently goes above and beyond normal nursing responsibilities in recognizing and meeting their needs, but with an attitude that he's just doing his job."
Cooke has been with KRMC's busy Emergency Department since 2012. He serves as both a clinical lead nurse and bedside nurse.
"I don't know - I just really enjoy being a nurse and the opportunity to help people," Cooke said when asked about receiving the honor. He credited the Emergency Department team for his ability to provide patients with exceptional care, stating, "Without all the doctors, nurses and other professionals in the ED, it wouldn't be possible."