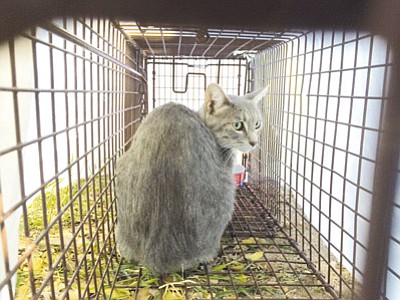 Originally Published: November 30, 2015 6:02 a.m.
Recently the Low Cost Spay/Neuter Clinic and Foundation hosted its third Trap-Neuter-Release (T-N-R) event by FIX the Feral Cats Volunteers. These events are important to our community because they help stop the breeding cycle of feral cats, preventing reproduction and over time helping minimize the feral cat colonies. It is a proven method and we are proud to be able to offer these services free of charge to our community because of a grant and donations.
Between the dates of Nov. 12-15, the clinic, along with multiple volunteers, was able to neuter 135 of Kingman's feral cats. All of the cats trapped were neutered, vaccinated, given any necessary antibiotics and had their ears cleaned at no cost prior to being released back to their original homes.
Fix the Feral Cats Project Volunteers worked long hours, starting at 8 a.m., with some working until as late as 10 p.m., to ensure that these cats were given the care that they needed. This event was lucky enough to have three vets, 12 vet techs and numerous other volunteers working together. Without these amazing people, this event would not have been able to take place in our great community.
Thank you to all of our generous volunteers and donors including: Dr. Taylor Williams, Dr. Robin Patersen, Dr. Priscilla Muhoho, Billie Tedesco, Kristin Freiert, Barb Leidenberger, Danny Gieck, Frankie Davis y Ortiz, Jakki Cook, Maria Davis, Alexis Timm, Brittany Berry, Kandy Berry, Liz Dahlin, Dana Tristian, Aspen Ainsworth, Alysia Conley, Chris Reno, Catlin Prieto, Trey Prieto, Heather Velasco-Bradley, Joyce Nedbaleb, Judy Green, Samantha McGuire, Sandie Gardner, Deborah Herbert, Susan Wassam, Robert Paulson, Deb Miele, Jessie Villeso, Peggy Berzansky, Denise Shinsky, Tina Tharp, Tracy Langley, Susie Jessee, Jamie Hervey, Low Cost Spay/Neuter Clinic and Foundation, Cerbat Cliffs Animal Hospital, Western Arizona Humane Society-Kingman, Arizona License Plate Committee, McKee's Food (Little Debbie's Snacks), Papa John's Pizza (on Stockton Hill) and several other anonymous donors.
If anyone would like to make a donation so we can continue to have events like this, mail checks to: Low Cost Spay/Neuter Foundation - FIX the Feral Cats, 1707 E. Andy Devine Ave., Kingman, AZ 86401.
Thank you all again!
Sincerely,
Jaime Cook