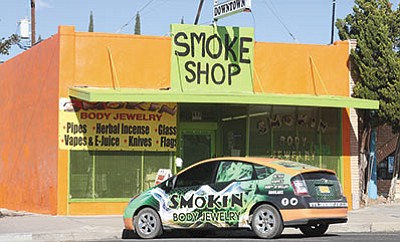 Originally Published: November 30, 2015 6:02 a.m.
KINGMAN - In downtown's fledgling entertainment district, a smoke shop for those who prefer to roll their own can be just as entertaining as a church for holy rollers.
Smokin' Body Jewelry and smoke shop opened a little over a month ago at 417 E. Beale St. in what was once a Whirlpool appliance store.
In addition to body jewelry, the shop sells water pipes and hookahs, e-cigarettes, vapes, incense, knives and detoxicants, along with adult videos and sex products in a back room.
The business is hard to miss with its splashy orange and chartreuse green color scheme.
Some downtown business owners aren't pleased with the appearance of the smoke shop. The windows are covered with a protective metal grate and the signage looks to be hand-painted.
"It's not an antique atmosphere," said Liz Carpenter, owner of Remember When Antique Mall. "Plus the paint color is grotesque. I smoke and I have children with body jewelry, but personally, I won't go in that building. It gives me the creeps. Just the color and signage just isn't what I consider appropriate."
Attention grabber
Lee Smith, eight-year owner of the smoke shop previously located at the Petro truck stop on Interstate 40 at Blake Ranch Road, said those are his company colors, and he's expanding with two more stores in New Mexico.
"I have these colors to get your attention and I have done that really well, haven't I?" Smith said. "I have you and the whole downtown talking about my business. Job well done, don't you think? And I have brought new customers to the downtown area, and that is a good thing, right?"
Carmella Hynes thinks so.
"I'm happy there's one less vacant building downtown," said Hynes, owner of Sirens' Café at 419 E. Beale St., adjacent to the smoke shop. "I think most downtown areas like Flagstaff have a smoke shop in the vicinity. It's kind of part of the downtown culture. I'd rather be more inclusive than exclusive."
Hynes said the building is "pretty bright" and she wishes there weren't grates on the windows, but the Arizona sun will do its "magic" on the paint and eventually people will get used to it.
It's not the only eye-catching business downtown. El Palacio Restaurant is painted yellow with green trim, Mr. D'z Diner is turquoise with purple trim and Nails by Design is almost the same orange and green.
Uniform codes
Diana Caldon, owner of Diana's Cellar Door wine bar, said she's not "thrilled" with the color, but she can't complain.
"If that's the case, I should have bought the building," she said. "I was surprised our city does not have any guidelines for downtown, something in place for color scheme. I know they have it for signage."
She's sure city officials drove past the smoke shop when it was being painted, and nobody said anything.
"I'm all for downtown growing and flourishing," Caldon said, "but it would be nice to have uniform guidelines. It's historic downtown."
She also doesn't care for the window grates.
"It lessens the property," she said. "If I was a visitor, I'd be concerned. I would wonder why they have bars on the window."
Caldon understands the smoke shop has expensive inventory, with some of the pipes selling for well over $300. But she has a lot invested in the Cellar Door's wine inventory and you don't see bars on her windows.
"I like the openness for people traveling down here to look in. This is our Main Street and bars are not welcoming," she said.
Changing times
Other business owners are happy to see another retailer downtown.
"I think property owners should be able to do what they want with the property they own," said Tim Schritter, owner of Black Bridge Brewery two doors down from the smoke shop. "There are ordinances and laws and they didn't violate anything, and they're really nice people. I'm not opposed to anything they're doing."
The color "definitely gets your attention," Schritter added, but he's got no problem with the type of business.
"It adds to the diversity downtown has to offer," he said.
Smith saw all the empty buildings downtown and believes his business will bring new life to the community.
"My company will grow and it will bring new customers to the downtown area. You'll see as the days and weeks go by. I'm not going anywhere and I will be very successful, just like my other companies. I will keep bringing new products in and new people will keep coming downtown," the smoke shop owner said.
"This area needs change. That is why I brought my company here and that is why the downtown area is dying with those empty buildings. So for the downtown area, we all need to change and get busy dying or get busy living and making this great area come to life. This is the 21st century. Old days will never come back, so let's change with the times and live a wonderful life. Things are only going to get better each day."