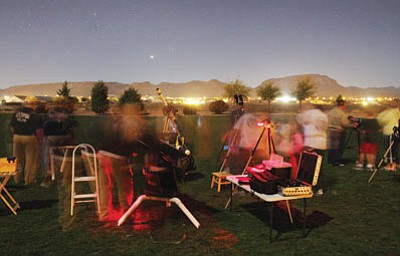 Originally Published: October 1, 2015 6 a.m.
KINGMAN - Thanks to another grant and a set of telescopes stationed in Dolan Springs, Kingman Unified School District will continue to look up and study the stars for the foreseeable future.
Mt. Tipton Elementary School kicks of its second year as a location in the Research and Education Collaborative Occultation Network (RECON), and for the time being it looks like the district is in it for the long run. They were able to secure a $500,000 21st Century Grant to help fund the program over the next four years, and that'll bring new opportunities to students in the classroom.
"Parts of the research project are academic programming, enrichment and opportunity," said Sarka White, assessment and professional development director for KUSD. "Our entire county is considered an underserved population. There aren't a lot of resources for students to get involved with social, career and technical opportunities at Mt. Tipton.
"This grant is to help bridge that gap, and use the school as a hub."
RECON is a study funded by the National Science Foundation and led by planetary scientists John Keller from Cal Poly in San Luis Obispo, Calif., and Marc Buie of the Southwest Research Institute in Boulder, Colo.
The study uses a linked network of more than 68 telescope sites spaced in 30-mile intervals from Oroville, Wash., to Yuma, looking at items in the Kuiper Belt just outside Neptune. Over 100,000 objects larger than 100 kilometers have been discovered in the Kuiper Belt since 1992, and studying these objects can help scientists understand the origins of our solar system.
The study utilizes 11-inch Celestron telescopes with magnifiers, video equipment and tracking instruments. During a given study event, all the telescopes in the network will look at a specific location in the sky and study the shadows, or occultation, of objects passing in front of a star.
Data collected in this study will go hand-in-hand with NASA's New Horizons mission. NASA's probe just wrapped up an encounter with Pluto in July and is now traveling through the Kuiper Belt.
Mt. Tipton in Dolan Springs, as well as the surrounding Kingman area, is a prime location for this kind of study.
"We're prized in Kingman. We have some of the best skies in the world. We have more citizen astronomers per capita than anywhere else. It's really well known for its citizen science and astronomy," said White.
According to White, the study has two focuses: the data collection, then reporting that scientific information forward. They want to engage the community in astronomy and science.
When Mt. Tipton was chosen, they were provided the telescope via the RECON study. Any additional funding would need to be acquired by the school district.
White and Ahron Sherman from KUSD secured a third 21st Century Grant via a federal program under the same name that supports after school community learning centers nationwide. The funding is authorized under the No Child Left Behind Act of 2001.
Money from this grant will help bring the findings of RECON to the classroom and help provide training to teachers and adults in using this equipment.
"It engages students in authentic science inquiry," said White. "The grant enables us to provide funding for nighttime projects for students and families. It also helps us leverage other programs.
"As an elementary school, Mt. Tipton is doing STEM (science, technology, engineering, and math) stuff at the end of the day. We can bring that infrastructure in during the day."
White is looking at getting a sun scope, a telescope used to look at the sun, and to project images from the telescopes to large screens in the classroom so that more people can experience the study.