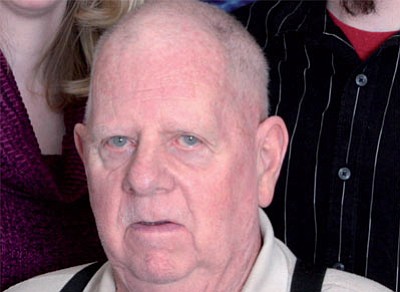 Originally Published: October 1, 2015 6:02 a.m.
Carroll Lawrence (Larry) Page, 76, passed away quietly on Aug. 22, 2015, at his home in Kingman.
He was born Jan. 2, 1939, in Laconia, N.H., to Carroll S. and Eleanor (Ormsby) Page.
Larry was raised in Gilford and graduated from Laconia High School, class of 1957.
Larry worked for the Foley Oil Co. for a number of years before taking a position with New England Telephone and Telegraph Co. in Laconia. Larry also served 29 years and 11 days in the New Hampshire Army National Guard with C Battery, 3/197th Field Artillery. Upon retiring from the phone company, he moved to Kingman.
Larry is survived by his wife, Charlene, of Arizona; a sister, Betty (Jim) Stafford of Laconia, N.H.; and four children, Theresa (Tracy) Guyotte of Laconia, David (Susan) Page of Gilford, Joyce (Kevin) Mahnke of Arizona and Randy Page of Arizona; along with two nephews and many grandchildren and great-grandchildren.
He was predeceased by his parents; a sister, Connie (Syd) Symons, late of South Africa; a son, Robert Page, late of Laconia, N.H.; and one great-grandchild.
There will be two services - one local at 1 p.m. Friday, Oct. 2, at St. John's United Methodist Church, 1730 Kino Ave.
The second service will be held at the Veterans Cemetery in Boscawen, N.H., at 1:30 p.m. Oct. 13.
In lieu of flowers, donations may be made to NH Veterans Cemetery Association, Inc., P.O. Box 626, Concord, NH 03302-0626.