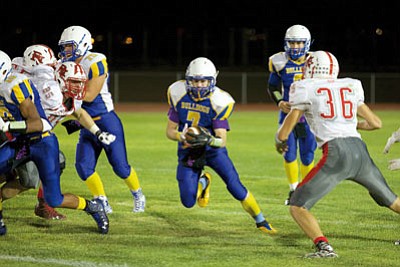 Originally Published: October 2, 2015 6 a.m.
KINGMAN - The first-ever football game against Kingman has been anticipated since Lee Williams High opened four years ago.
The wait is over.
Game time is 7 tonight at LWHS, on what used to be the Bulldogs' home field.
"We're so ready. These guys are about to bite through metal," said KHS football coach Greg Tonjes. "We set the tone early with our JV winning 26-8 on Monday."
Whereas Kingman has 90 years of football history behind it, this is Lee Williams' third year of varsity football. Tonjes has put that history to use in preparing for Lee Williams (0-5 Division IV, 0-2 Section III).
"We've been focusing on the first and that there is never a second 'first,'" Tonjes said. "We're being nostalgic with the kids, reminding them of the history of Bulldog football. They're getting fired up knowing they will be remembered forever for this first game."
There's a lot of fun toying with the nostalgia and history, but business still needs to be taken care of once the opening kickoff occurs. Kingman (1-4, 0-2) has to find a way to stop the Lee Williams rushing attack that averages about 200 yards per game.
"We need to contain the run," the coach said. "They are not a big throwing team. They are who they are and we need to be real disciplined with what we do defensively."
Kingman is expected to be at full strength after a dreadful night of injuries was suffered two weeks ago at Parker. The Bulldogs will have running back Isiah Perez and WR/LB Marcus Whataname in uniform against the Vols. Perez has rushed for a team-leading 458 yards in four games.
Having Perez back gives Tonjes a little relief knowing that part of the equation is settled for the Bulldogs, but the coach knows that if the offense is going to be successful, junior quarterback Nate Sinclair will have to shine.
"Our quarterback needs to play big this week," the coach said. "He needs to see what the defense is giving him and be able to audible out of it. He needs to get the ball to the right guys."
The pressure isn't on the Bulldog players alone. Tonjes and his staff need to be on their games as well.
"We need to be situationally organized," he said. "Lee is well disciplined. They're a good team, and their record is not indicative of who they really are. They've played some tough teams."