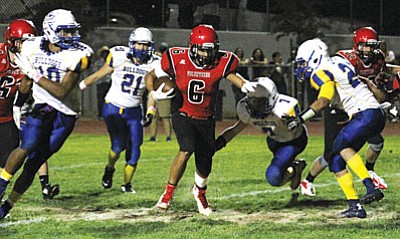 Originally Published: October 4, 2015 6 a.m.
KINGMAN - Senior running back Nate Cottrell had a breakout game Friday night, rushing for 189 yards and four touchdowns as the Lee Williams High Volunteers claimed the Superintendent's Trophy with a 42-20 home victory over cross-town rival Kingman High Bulldogs.
Cottrell's 65-yard romp up the middle and down the sidelines two minutes before halftime tied the game, 14-14, and he put the Volunteers ahead less than a minute into the second half with a 24-yard touchdown that was set up by two 15-yard penalties against Kingman on the second-half kickoff return.
"I thought Nate Cottrell ran like a freight train tonight," Lee Williams offensive coordinator Ray Smith said. "I thought we played better in all areas. (Jason) Ruiz threw every block to make the big run."
Lee Williams recorded its first win of the year, going to 1-5 and 1-2 in Division IV section play. The Volunteers play Kingman Academy (0-6, 0-3) at 7 p.m. Friday at Kingman High School.
Kingman falls to 1-5, 1-2 in section. The Bulldogs travel to Lake Havasu City (6-0, 3-0) on Friday.
It was an emotional night for both teams, as the Kingman Bulldogs and Lee Williams Volunteers met for the first time in varsity football.
Kingman High has nearly a century of football history, going back to Mohave County Union High School, the only high school in the county until the late 1960s.
Lee Williams was founded in 2012, and moved up to the same Division IV section as the Bulldogs this year. Kingman Unified School District Superintendent Roger Jacks presented the Superintendent's Trophy to the Volunteers after the game, with both teams shaking hands at midfield.
The Bulldogs jumped to a first-quarter lead as left-handed quarterback Nathan Sinclair slung a pass across his body as he was going down under pressure and found 6-foot-3, 200-pound wide receiver Damon Hiedorf over the middle. Hiedorf outran Lee Williams' defenders for a 49-yard score.
The Volunteers controlled the first half, keeping the ball in Bulldog territory, and put up a tying touchdown on a perfect rainbow pass from quarterback Daniel Mazon to a speeding Justin Sturgill on a 28-yard flag pattern with 3:33 left in the half.
The momentum turned quickly when Kingman's Garrett Stephens returned the ensuing kickoff 88 yards for a TD, and the Bulldogs regained the lead, 14-7, though that, too, was a fleeting moment as Cottrell broke off the big run just before half.
The Volunteers dominated the second half, scoring 21 points in the third quarter on Cottrell's 24-yard and 1-yard touchdown runs and a 68-yard touchdown strike from Mazon to tight end Landon Kramer. Kramer caught the ball in the flat, put on a nifty backward juke and zig-zagged through the Bulldog's secondary to the end zone.
"I appreciate the fight, but it's disappointing," Kingman coach Greg Tonjes said. "Bottom line is Lee Williams played good in the second half and we didn't. We've struggled with that all year and we're trying to fix it. For whatever reasons, we give up a couple scores and get down. I'm not sure how to fix that."
Junior quarterback Mazon had a standout game for Lee Williams, completing five of six passes for 148 yards, two touchdowns and no interceptions.
The Bulldogs were led by running backs Isaiah Perez (9 carries for 33 yards) and Stephens (4 rushes for 24 yards). Sinclair was 12-for-24 passing for 170 yards, two TDs and no interceptions. He capped off Kingman's scoring with a 15-yard TD pass to Mason Wester with just under two minutes remaining.
More like this story