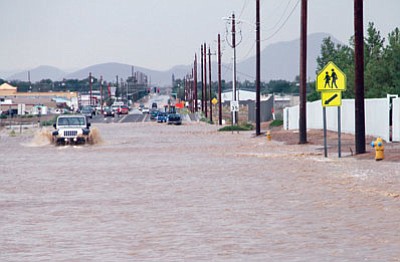 Originally Published: October 5, 2015 6 a.m.
KINGMAN - Arizona's monsoon season officially ended Wednesday under clear and sunny skies, a 97-degree temperature and 20 percent humidity, fairly indicative of the way the season has gone for most of the summer.
Monsoon storms took it easy on Mohave County this year, dropping a light 2.2 inches of rainfall and leaving behind nothing like the trail of destruction seen in 2014. County road crews were busy clearing mud and debris from roads, trees were blown over onto homes and cars, and residents dealt with flooded homes.
Flash flooding in Hildale, Utah, and the Arizona Strip in September claimed the lives of 13 people who were washed away in their vehicles. And in July, a bridge washed out on eastbound Interstate 10 near Desert Center, Calif., detouring traffic between Phoenix and Los Angeles.
A section of Oatman Highway where the Sacramento Wash crosses into a watershed was closed in August until standing water had subsided and debris was removed.
Otherwise, the 2015 season ended with a whimpering 0.2 inch of rain in September, record-high 100-degree temperatures on Sept. 11 and Sept. 24, and a record-low of 51 degrees on Sept. 18, according to the state climatologist at Arizona State University. Kingman could get more rain today and Tuesday than what fell here in September.
"Definitely less than normal," ASU Climatologist Nancy Selover said. "You escaped the big tropical storm that dumped on southern Utah and washed away a couple vehicles. It would have been nice for you to get some of that rainfall."
The monsoon season, defined as June 15 through Sept. 30, brought 0.92 inch in July and 1.08 inches in August, but September didn't add much to the final tally. The large dumps were 0.77 inch on July 18 and 0.67 inch on Aug. 7. Kingman got 1.49 inches in June, but only a trace after the 15th.
"Yes, it was a very mild monsoon season," said Bernice Shreve, who keeps track of rainfall at her home near Kingman Airport. "In this area, we saw less dust blowing too."
Below normal
Dan Berc, meteorologist for the National Weather Service in Las Vegas, reported 2.22 inches of precipitation in Kingman during the monsoon season, compared with the 30-year norm of 2.90 inches.
"So while we were a bit below normal, it wasn't really dry," Berc said. "The last few years have been above normal."
Last year was a bit of an anomaly with 5.70 inches of monsoon rain at Kingman Airport, including 2.40 inches in the final month. It was the wettest monsoon season in 15 years.
The last "really dry" monsoon was in 2010, when less than half an inch fell over the summer months.
"There is no question that the 2015 monsoon was drier than 2014, but this year was a more typical monsoon than we have had the past few years," Berc noted. "However, even in a drier year, we can still have devastating flooding, as evidenced by the recent floods in Hildale and Colorado City and at Zion National Park."
Arizona typically receives about half its annual rainfall during the monsoon season, and this year was predicted to be an active season with El Nino systems off the west coast of Mexico. El Nino is still in effect and could bring above-normal rainfall to the Southwest in the fall and winter.
Other than a few isolated thunderstorms, the 2015 monsoon season did not play out as anticipated.
"So the tropical storms we had last year did not repeat," state climatologist Selover said. "I really thought they would. We might get something Monday or Tuesday, but the forecast models don't agree, so there's not much confidence in a rain event, and no certainty about where it might happen."
Winter potential
Total rainfall is down about 4 inches from a year ago, said Ann Cherry, who measures rain in the Hualapai Foothill Estates. But Kingman did get 6 inches of snow on New Year's Eve, the most she's seen in 24 years here.
"Usually we'd get 2 inches twice each winter, if not just once, but the last few years we didn't even get any until this year," she said. "Not even flurries except for a few you could see one time."
The Phoenix area saw a little more monsoon moisture than Northern Arizona, with 3.29 inches recorded at Sky Harbor International Airport and as much as 5.5 inches in north Tempe.
The National Oceanic and Atmospheric Administration forecast this year's El Nino to be the strongest since 1997, though that was not a particularly wet year for Arizona.
"However, it certainly has the potential to be a very wet winter," Selover said. "If we get cold fronts coming down from the arctic, we could enjoy a good snow pack in the higher elevations of eastern and northern Arizona. Of course, this assumes El Nino continues to strengthen, or at least remains as strong as it currently is."
Click for home delivery with comics, grocery deals, inserts, TV listings, coupons and more