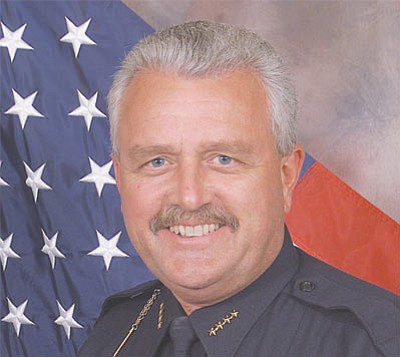 Originally Published: October 6, 2015 6 a.m.
KINGMAN - Kingman Police Chief Bob DeVries, Lt. Jim Brice and Mohave County Chief Deputy Rodney Head will discuss recent conflict between the nation's law enforcement officers and citizens when the Mohave Republican Forum meets Oct. 14.
Forum President Richard Basinger said the men will answer the question of "What needs to happen?" in the wake of protests and riots regarding the shooting of unarmed African-American men that began in earnest Aug. 14, 2014, in Ferguson, Mo., with the officer-involved shooting death of Michael Brown.
The men will also look at the other side of the coin and discuss the assassinations of officers, deputies and firemen that have occurred across the nation in recent weeks, with the aim of answering the questions: "What needs to be done and what can you do?"
The meeting takes place at Golden Corral, 3580 Stockton Hill Road. The reserved room opens at 4:45 p.m. and the discussion will begin roughly an hour later.
There is a $2 donation and attendees are responsible for their dining costs.
Reservations are requested and can be made by emailing Rita Basinger at ritabasinger@citlink.net, or by phone at (928) 692-4771; or Kathie Sturtevant at kathie2547@gmail.com or (928) 718-0891.
More like this story