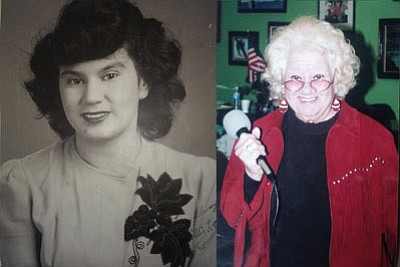 Originally Published: October 6, 2015 6 a.m.
Millie Lopez (Dudek-Grandstaff), born Otilia Emiliana Lopez, passed away Aug. 22, 2015, at St. Joseph's Hospital in Phoenix. She had been ill since the end of May, was at Valley Hospital in Las Vegas for four weeks and spent five weeks at the Gardens Skilled Nursing Facility before being taken again to Kingman Hospital and then to St. Joseph's in mid-August.
Millie was 85 years old. She was born in Loving, N.M., to Maggie and Francisco Lopez. She had been living in Kingman for the last 13 years. She made many friends in the local community, especially at the senior center, where she enjoyed singing and wonderful times with friends.
Millie has extensive family in Carlsbad, N.M., where she grew up as the youngest of seven children. In Carlsbad, she enjoyed a childhood around her family and extended family. As the youngest child of Maggie and Francisco Lopez, she was very close to her brothers Ray and Robert Lopez and her sisters Nellie, Fella, May and Elsie.
She moved to California at the age of 13 with her sister and lived in the California cities of San Pedro, San Francisco, Baldwin Park, Azuza, Glendora and Covina. She continued to visit her family and relatives in Carlsbad throughout her life. She married and had a son, Tom, with Sylvester Cardona, later married Orville Dudek and had two other children, JoAnn and Jon. She also raised her stepsons, Fred and Randy Dudek. After Orville's passing, she married Curt Grandstaff and had many wonderful years of life with him and family in Covina, Calif. They had a beautiful home, went on many cruises and shared their lives with family and friends.
Millie was preceded in death by her daughter Jo Ann Bradshaw, her stepsons Randy Dudek and Fred Dudek, and is survived by her sons of Ferndale, Wash., and Jon Dudek of Kingman.
Millie loved her family and played an important part in raising grandchildren, nieces and nephews. She was a second mother to many.
Millie lived a life full of travels. She organized and went on many cruises while working at Gould Electronics. She lived in the country of Honduras for three years. She worked hard and enjoyed surrounding herself with carefully chosen clothes and furnishings. She prided herself in her appreciation of nice clothing and furnishings for the homes that she lived in.
She was generous with her time and her money. She always helped family and friends in very meaningful ways. She had a "heart of gold" but she also had uncommon strength and strength of character. She loved music and loved to sing.
There will be a memorial service at the graveside at Santa Catarina Cemetery in Carlsbad, N.M., where she will be buried at 4 p.m. Saturday, Oct. 10.
More like this story