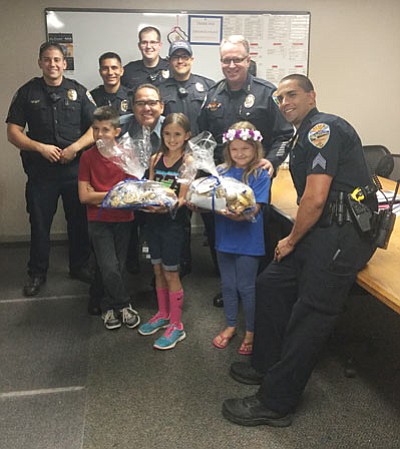 Originally Published: October 7, 2015 6:02 a.m.
KINGMAN - Nathan Schoch, 10, Jo-Lee Schoch,9, and 6-year-old Rebekah Chapman deliver cookies to Kingman Police officers Monday as part of Cookies For a Cop, a group founded last December as a way to show appreciation, that we value what they do and to lift their spirits.
The mission is to bring two cookies to every officer and support personnel in the nation and in foreign countries where the movement has spread. The Arizona Auxiliary of Wives Behind the Badge also participated.
The event began on Dec. 22, when 15,000 officers and support staff were given 30,000 cookies in a single day. The idea evolved into a nationwide campaign dubbed "Sweet Kindness."
"The outpouring of support through this effort, as well as others, has been very humbling," said Police Chief Bob DeVries. "We appreciate all of their support and consider it an honor to serve in our community."
More like this story