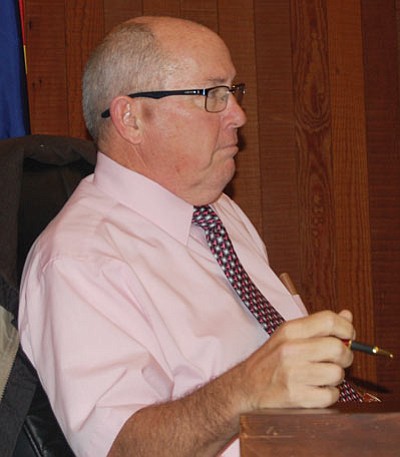 Originally Published: October 8, 2015 6 a.m.
KINGMAN - The City Council has seven months to convince residents that they need to vote for the first primary property tax paid in Kingman in 35 years.
The Council voted 6-1 to do two things at Tuesday's meeting. One was to extend by 18 months the sunset date of a half-cent sales tax bump the Council approved in 2013, which was set to expire June 30, until Dec. 31, 2017.
The second was to embark on an extensive public education campaign before voters decide the primary property tax question in a special election that would take place in May - at an estimated cost of between $100,000 and $120,000, according to City Clerk Sydney Muhle.
City staff recommended the Council make the temporary sales tax permanent, but six of seven members of the Council, led by Councilman Larry Carver, decided to let voters decide the issue.
"There's nothing more permanent than a temporary tax," said Carver. He said many people who rent homes or business space in Kingman rent from non-residents who "do nothing for us."
Carver said he wanted to educate the public on the tax, why it is necessary and how citizens and the city would benefit.
Councilman Mark Abram said he tended to agree with Carver, saying the implementation of a primary property tax would be the "most efficient" way to collect close to $3 million, which is about what the half-cent sales tax earns, and he suggested extending the sales tax sunset deadline.
Councilwoman Jen Miles, in speaking to the city's need to recruit good employees, said it was a "regional truth" Kingman has to compete for workers, which can be difficult when you have only "one knob to turn."
Here's what people would pay, as a ballpark figure, to raise roughly $3 million per year. A home with an assessed value of $100,000 would be obligated for $170 a year, or less than $15 per month.
"That's the kind of education that's important," said Miles. "Is it not worth $15 a month to know an ambulance will show up?"
It is probable the Council would make the half-cent increase permanent if voters turn down the property tax. The only other possible option would be to ask voters to approve a fire district and let the Kingman Fire Department, which is currently a city-ran entity, stand on its own. Either way, home and business owners, and those who rent, would have a tax to pay.
Whether the funding comes from sales or property or fire district taxes, it will be dedicated to public safety, which takes 56 percent of the city's general fund revenue in fiscal year 2015-2016 ending June 30.
Council members voted to extend the sunset date until the end of 2017 due to timing. If voters approve the rooftop tax next May, the revenue would not come into city coffers until 2018.
The Council knows the effort to educate residents will be massive, but after two years of giving little more than lip service to finding a permanent and stable revenue stream in the face of persistently dwindling revenue, the Council decided to put the issue in voters' hands.
Carver recalled the entire point of approving the half-cent increase in 2013 was to use it as a revenue bridge until the Council could identify a permanent revenue stream that would relieve the city of its sole reliance on sales taxes to fund services such as police and fire, parks and recreation - which takes14 percent of general fund expenditures - and streets.
Councilwoman Carole Young cast the lone no vote, because she didn't think the Council should extend the sunset date. In fact, Young didn't vote for the half-cent increase in 2013, she said, because she "knew we wouldn't work on a permanent solution."
She also said the city had until 2017 to find a stable and perennial revenue stream, and that there would be enough revenue left after the June 30 expiration to sustain the city through the rest of the year.
Mayor Richard Anderson, however, noted that what the city earned in 2015 was "about what we earned in 2006, and the half cent got us there." Anderson also said the city has grown by about 2,000 people since 2013 and that it has annexed land.
He said voters who will decide the property tax question must be educated, saying some people think they already pay a primary property tax to the city. That hasn't happened since 1980, when the Council in office at the time permanently abolished the tax during a time of high employment and significant sales tax revenue.
The Great Recession had a serious impact on city revenue because sales tax went down at the same time the state kept for itself millions of dollars in gas taxes, lottery money and other sources of revenue normally sent back to cities.
Anderson said part of the education initiative would focus on explaining the current taxing structure in Kingman compared to other Arizona cities and towns.
There are 91 of them that belong to the Arizona League of Cities and Towns. Of those, 65 have a higher sales tax rate than Kingman - and they, unlike Kingman, also tax food purchases. Fifty-one have the same 2.5 percent sales tax rate as Kingman, or higher.
Anderson also noted that Bullhead City and Lake Havasu City charge only 2 percent for sales tax, but Lake Havasu has a property tax. Bullhead City doesn't have a property tax, but neither does it have to fund a fire department.
Residents Herberta Schroeder and Harley Pettit urged the Council to make the half-cent increase permanent. Pettit suggested they increase it another half-cent and make the tax an even 9 percent in total, with a downward tier system for high-dollar purchases such as vehicles.
More like this story