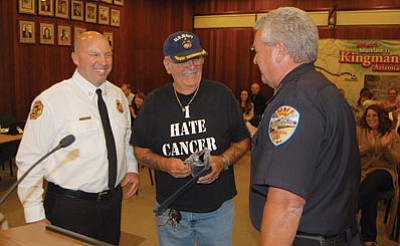 Originally Published: October 9, 2015 6:02 a.m.
KINGMAN - We could all use a neighbor like William Ponusky - the kind of neighbor who is caring enough to know something is wrong at your house even when his own is filled with grief and loneliness.
The kind you can point at and say, "He saved my life."
Ponusky was honored at Tuesday's City Council meeting and presented with a City of Kingman Life Saving Award during a poignant ceremony.
On Aug. 17, Ponusky called the Kingman Police Department to check on the wellbeing of his neighbor, whose lights had remained turned on for three days even though there had been no sign of the man who lived there.
Officers responded to the home in the 2100 block of Seneca Street. After knocking on the door and getting no answer, they looked through the windows and saw the man lying still on the floor.
Paramedics with the Kingman Fire Department were summoned and police entered the home to find the man "showing signs of life" after suffering a severe medical episode estimated to have occurred a couple of days earlier.
"Without the keen observation and caring attitude of Mr. Ponusky, it is highly likely the individual would have died," said Police Chief Bob DeVries, adding the two departments "applaud Mr. Ponusky for his life saving action on August 17, 2015. He is the epitome of a good neighbor."
After receiving a standing ovation from the audience and members of the City Council and shaking hands with DeVries and KFD Chief Jake Rhoades, Ponusky asked if he could speak.
Mayor Richard Anderson nodded yes, and Ponusky, who was wearing a black T-shirt with white lettering that read, "I Hate Cancer," became emotional when he revealed: "I'm here tonight because two weeks prior to that I lost my wife to cancer." He said he was standing outside the night he noticed something wasn't right next door, something he might not have been doing if not for his recent loss.