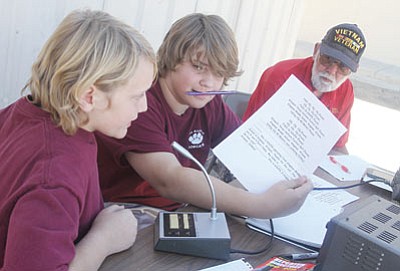 Originally Published: October 9, 2015 6 a.m.
KINGMAN - Exzavier Clubb and Justin Foran are operating the ham radio equipment they've set up at Kingman Middle School, part of student enrichment activities offered last week while the school was on intercession break.
They made contact Friday with Walt in Torrance, Calif., who told the boys he thought it was great that they're interested in ham radio and they have good voices.
"I've always wanted to do radio like this," said Foran, an eighth-grader at KMS. "You get to talk to other people. We learned how to work a walkie-talkie and we're learning Morse code."
Dan Miller, a Vietnam War veteran, teacher's aide at KMS and licensed ham operator since 1962, is teaching the ham radio class. He started out with six boys, but only three stuck with it.
"The kids enjoy it and I feel obligated to share with them because somebody taught me when I was in high school," Miller said.
They used a bow and arrow to shoot a string over the rung of a light pole and hook up a dipole antenna, including a 20-meter international band and a 40-meter band that transmits about 500 to 600 miles during the day.
"We've got three kids now who definitely want a ham radio license and we're pursuing that," Miller said. "They actually built the antenna with wire I had at home and we cut it to the frequency that you want to operate on the radio. What they like the most is talking to people far away on the radio."
Miller has been teaching students about alternating and direct current, how to test batteries and how to use a volt-ohm meter. He's also certified to administer an examination for their license.
Kathryn Zanin, assistant principal at Kingman Middle School, said about 200 students registered for a variety of intercession programs, including Lego robotics, cake decorating, film history, stitch and sew, basketball and soccer camps and a class on how to market themselves.
In the morning, students get tutoring in math and language arts, and catch up on homework.
Zanin liked the idea of the boys learning to set up and operate a ham radio.
"It's an advantage that kids from our small rural community are communicating and interacting with people all around the world," she said.