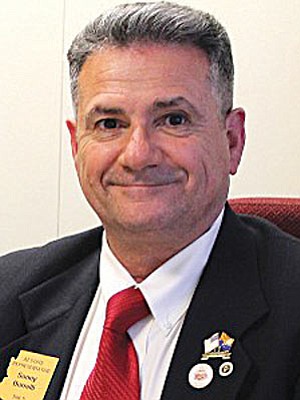 Originally Published: October 11, 2015 5:59 a.m.
KINGMAN - The Conservative Republican Club of Kingman is gearing up for the presidential preference election, Republican primary and local elections with a slate of candidates appearing at the next few meetings.
The club will introduce three new candidates running for Mohave County Sheriff at its next meeting at 11:15 a.m. on Oct. 19 at Dambar Steakhouse. The sheriff candidates are Cori Merryman, John Gillette and Joe Archie.
Rep. Sonny Borrelli, a familiar face to club members, will also speak at the meeting. He's running against former state Sen. Ron Gould for the seat currently held by Kelli Ward. Gould spoke to the club at its September meeting.
The meeting is open to the public and no reservations are necessary. Meeting cost is $3 and lunch is optional. Membership in the club is $12 annually.
Guest speaker at the club's November meeting will be Cathi Herrod, president of the Center for Arizona Policy. The center is among the foremost "think tanks" in the United States for pro-life and family issues, having originated more than 130 legislative bills, Schiff said. They are hated by organizations such as Planned Parenthood, he added.
Click for home delivery with comics, grocery deals, inserts, TV listings, coupons and more