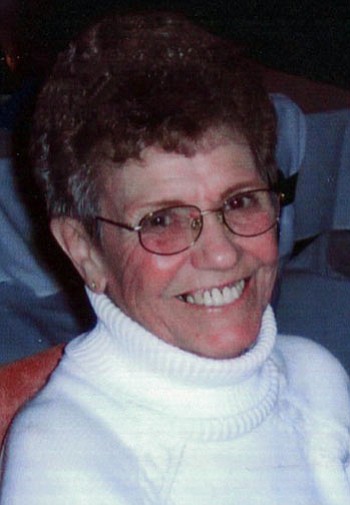 Originally Published: October 13, 2015 6 a.m.
Nelda Marie Linkvis of Kingman passed away Wednesday, Oct. 7, 2015, at the Joan and Diana Hospice Home at the age of 84. She had fought a long and hard battle against cancer and COPD diseases, now she is at peace and gone to be with her Lord God Almighty and relieved of all her pain and suffering she had to endure for so many years.
She was born on Feb. 8, 1931, in Fairfield, Neb., to Olin and Iva Brown and was the second oldest of three children. Her parents eventually settled in Pierce, Neb., where she attended grade school and graduated from Pierce High School in 1948. She was on the roll of the National Honor Society. Following high school graduation, she went to Norfolk, Neb., to work at Northwestern Bell Telephone Co. On Sept. 4, 1949, she was united in marriage to Martin Howard Strelow. They were divorced in March 1970. Two daughters were born during this marriage (Stephanie Lynn and Stacey Lynette).
Nelda met her soon-to-be husband, Robert (Bob) Linkvis, at a June 1973 square dance in Los Angeles and was later married on Dec. 7, 1973. As they both loved to square dance, they went dancing almost once a week for several years later. Nelda was a good dancer.
Nelda went to work for the Travelers Insurance Co. in Van Nuys, Calif., in 1965 and retired from Travelers (Orange County office) on April 30, 1986. She then went to work for Provident Insurance Co. for two years and then on to McDonnell Douglas Insurance Office for five years in Long Beach, Calif. She and her husband, Bob, both retired Sept. 24, 1993, from McDonnell Douglas at the same time. By then they had sold their home in Anaheim, Calif., and moved to Kingman on Sept. 30, 1993.
Nelda became a member of the National Society of the Daughters of the American Revolution on Feb. 1, 1985.
Nelda was preceded in death by her parents; an older brother, Gene Brown; and her younger sister, Donna Mae Krier. She is survived by her loving husband, Robert (Bob) E. of Kingman; daughters Stephanie Strelow of La Selva Beach, Calif., and Stacey Rose of Winnetka, Calif.; stepson Robert (Robbie) A. Linkvis of Bullhead City; two step-grandchildren, Natalie J. Linkvis and Dylan M. Linkvis of Bullhead City; and several cousins, nieces and nephews.
She was a loving and caring wife and well-liked by those who knew her. She loved seeing her step-grandchildren whenever she could. Her body has been donated to medical science and later will be cremated.
No funeral or memorial services have been planned.