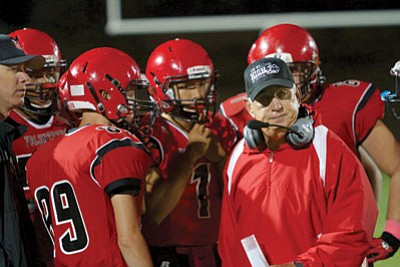 Originally Published: October 18, 2015 6 a.m.
KINGMAN - The administration at Lee Williams High School cleared up any confusion as to the status of the head football coach for the Volunteers.
Eugene Kramer has continued to be listed as head coach, but over the last three weeks assistant coach Ray Smith appeared to have grabbed the reins. LWHS principal Gretchen Dorner confirmed that with e-mail to the Daily Miner sent on Friday.
"All coaches have retained their 'coaching positions' with regards to offense, defense, quarterbacks, linemen and special teams," Dorner wrote. "No major changes in coaching assignments have occurred. All coaches remain committed to the boys and to collaborating as we wind down the season.
"As far as the title head coach; Ray Smith is taking the lead in making head coach decisions at this time. Kramer is on board as an integral part of (the) varsity coaching staff and school staff and continues to support our students and the community at the same level he has for the past three years. We are proud of our football players, the entire coaching staff and look forward to finishing the season strong."
Dorner said the football team went in this direction for a couple of reasons. Prior the start of the season, Dorner said that Kramer had verbalized to a number of people at LWHS that this would be his final season coaching the team, though he had not submitted anything official in writing.
Kramer also left for a week prior to the Kingman game on Oct. 2 on a trip to Hawaii. Smith took over that week, and the coaches apparently agreed Smith would retain taking the lead so the players wouldn't have to go back and forth.
Lee Williams plays at Wickenburg Friday.