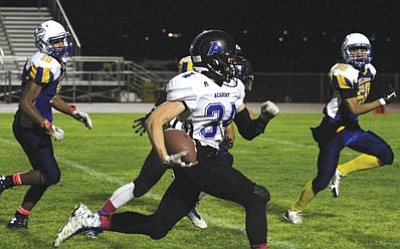 Originally Published: October 18, 2015 5:59 a.m.
KINGMAN - Once the Kingman Academy High running attack got rolling, the Kingman Bulldogs couldn't offer much resistance as the Tigers scooted by Kingman with a 49-14 win Friday at KHS.
It gave the Academy (1-7 Division IV, 1-4 Section III) its first win of the season, and Kingman (1-7, 0-5) dropped its seventh in a row.
"This was our best morning (of the season)," said KAHS football coach Dan Stroup. "We're still the same team. Win or lose we're the same, but we did get better."
It was the first-ever meeting between Kingman and Kingman Academy, something fans of both schools had wanted to see since the Tigers began playing football in the mid-2000s.
"It's really something special," said KAHS senior Tristen Pitts. "We've played every other school in every other sport, but with football it was all talk until we got here. I'm really happy we came out with the win."
It was a steady rain throughout the first half, and it took awhile for the offenses to get going. Academy scored with 1 minute, 17 seconds left in the first quarter on a Jordan McDowell-Seybert 3-yard touchdown run to take the first lead of the game, and the Tigers hardly looked back.
Academy finished with 410 yards rushing. McDowell-Seybert rushed for 169 yards on 12 carries and four touchdowns. Clayton Holloway added 209 yards on 14 attempts and two touchdowns. Holloway also had an 85-yard interception return for a touchdown in the fourth quarter.
"We ran around them, and when they adjusted, we went through them," Stroup said. "The line blocked better than they have, but our backs are pretty special."
Academy led 21-0 before the Bulldogs found the end zone. Isiah Perez scampered 43 yards to close the gap, 21-7.
Perez led Kingman with 153 yards rushing on 23 carries and two touchdowns. He scored in the third quarter on a 10-yard run.
"Perez is a kid who plays like every play is his last play," said KHS coach Greg Tonjes.
This appeared to be a winnable game for the Bulldogs, but the 35-point loss had the coach feeling down.
"Academy came to play football and didn't turn the ball over," Tonjes said. "It's real disappointing. Whatever we're doing, it's not working. If anyone needs to point fingers, they can point them at me."
McDowell-Seybert led the Tigers defense with 17 tackles. Matthew Timmerman pulled down 10 Bulldogs, including a sack.
Kingman had a moment when it looked as if the Bulldogs could have crawled back into it. Trailing 35-14 late in the third quarter, a quick score would have made things interesting. But then Holloway grabbed one of the three Tiger interceptions and returned it on an amazing run for a TD to go ahead, 42-14.
"Even when they scored, I told our players that blood was in the water and don't be satisfied," Stroup said. "I got on them for letting them back in, and they responded."
Pitts, the No. 6 punter in the nation, was a perfect 7-for-7 on extra points. He had two punts for 88 yards, including one inside the 20.
Academy plays at No. 3 Lake Havasu (8-0, 5-0) this upcoming Friday, and Kingman is at Mohave (3-5, 3-2).