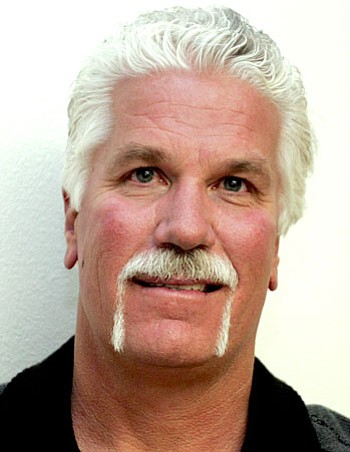 Originally Published: October 18, 2015 6 a.m.
KINGMAN - Citing a desire not to allow his personal life to harm Kingman, Vice Mayor Mark Wimpee resigned from the Kingman City Council Thursday afternoon.
"There's so much negativity surrounding me," said Wimpee Friday morning. "I don't want it to affect the city any more than it already has."
Wimpee came under fire earlier this month when restaurant owners Brent and Tammy Rutherford and others asked the Council to remove Wimpee as vice mayor after his construction business failed and he was unable to complete a contract job at Rutherford's Route 66 Family Diner.
Wimpee came under withering criticism on Kingman-specific social media sites after the Rutherford's reported the failed work at their place.
Wimpee said his decision to step down mid-term is attributed in part to the Chamber of Commerce-led effort to have Kingman move forward in the $3 million America's Best Cities competition. The city is a quarterfinalist.
"I love this city," said Wimpee. "But there's so much negativity surrounding me. There are so many people out there who hate me and I don't know why."
The seat on the Council is not the only thing Wimpee has lost. His business, First Generation Builders, has failed. "I owe too much money to save the company," he said. "I'll just go get a regular job and try to get some normalcy in my life."
Wimpee was also caught up in a domestic dispute earlier this year with his ex-fiance, dentist Susan Haynes, after building a new 5,500-square-foot office for her last year on Airway Avenue.
To his supporters, Wimpee had this to say, "I would like to thank the voters. I feel like I did a good job on the Council and I could have continued doing a good job, but I can't let what's going on with me affect Kingman."
The City Council will meet Tuesday and follow legal procedures to select a replacement for vice mayor and solicit applications from people interested in being appointed to fill out Wimpee's remaining term, Mayor Richard Anderson said.
The council went through a similar situation a couple years ago when Mayor John Salem resigned to take care of his mother and Janet Watson became mayor.
"It is a distraction for the city," Anderson said.
Applicants must file a letter of interest with qualifications and references, and hopefully the Council will fill the seventh position by the next regular meeting, the mayor said.
"It's unfortunate," City Manager John Dougherty said of Wimpee's resignation. "As far as a Council member, I felt he did a good job and looked out for the best interests of the community. That's the best we can hope for from Council members. It's unfortunate his business life and personal life crossed over to his duties as an elected official."
Meanwhile, any Council vote that ends in a 3-3 tie will be considered a losing vote, Dougherty said.
Daily Miner reporter Hubble Ray Smith contributed to this story.
Click for home delivery with comics, grocery deals, inserts, TV listings, coupons and more