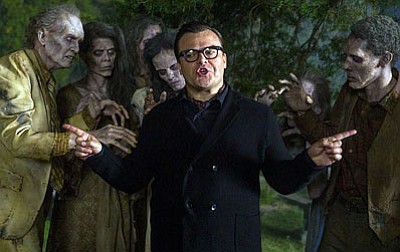 Originally Published: October 19, 2015 6 a.m.
I didn't read the books or watch the movies as a kid. I did as a father for 8- to 11-year-olds. The stories and movies were light enough to maybe produce a scare or produce goose bumps in my son or daughter.
The 2015 version of "Goosebumps" is no different. R.L. Stine's stories were numerous, with each having a villainous monster of some type threatening the town and the only people to save the day were the kids. Like earlier stories, "Goosebumps" has light suspense, a scary monster, a twist, some sadness and a happy ending.
Dylan Minnette is Zach. He moved to a new town with his mom, Amy Ryan, after his father died. Zach's neighbor, Hannah (played by Odeya Rush), lives with her creepy and secretive father, played by Jack Black. As the plot develops it's clear Zach and his other new friend Champ, played by Ryan Lee, will come to the rescue.
(Side note: I couldn't get over how much Hannah looked like a young Mila Kunis.)
As the story unfolds, just about every monster from all the R.L. Stine books come to life. It's up to Zach, Hannah, Champ and Black to save the day.
The story is light and airy and fun. Nothing too heavy, no graphic violence, blood or gore. It wasn't necessary. Although the characters are stereotypical: the hero, the young lady needing rescuing and the socially inept goof ball who comes into his own, it works. And it works well. The characters are believable. We may see similar characters in our daily lives, which helps make it work so well. It was easy to identify with the teen loneliness and social ineptness.
All in all a very good movie. The characters were well played, the storyline was smooth and easy to follow. It was a refreshing, fun movie I can easily recommend to anyone over 5 years of age even though it is rated PG. It's about 103 minutes long so get yourself a big bucket of popcorn, large drink and bring the kids. I'd give it 4 out of 4 Miners.
More like this story