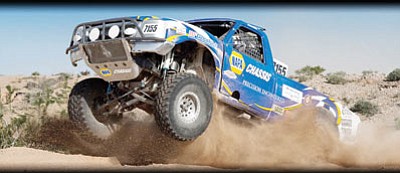 Originally Published: October 21, 2015 6:02 a.m.
KINGMAN - Motorheads, race fans, and the curious have a full plate offered to them as the 46th Annual NAPA Auto Parts SNORE 250 comes to Kingman Thursday - Saturday.
The fun begins Thursday with the Beale Street Pub Crawl from 7 to 9 p.m.
More entertainment follows on Friday, beginning with the Fun Run. Staging begins at 11:30 a.m., and a one-lap race with controlled speed led by a SNORE official immediately follows. Race registration occurs at Redneck's Southern Pit BBQ from 2:30 to 6:45 p.m., and the Technical & Safety Inspection along with a car show runs from 3 to 7 p.m.
"People can touch the trucks, talk to drivers and pit crews during tech," said SNORE Arizona Representative Tony Scott. "We should have 100 or more vehicles here. We're probably going to have at least a dozen classes racing."
In addition to the off-road SNORE vehicles, Route 66 Cruizers, Drifters Car Club and 928 Motorsports will be on hand to show off their vehicles.
The best news for spectators is that all admission prices are free, including Race Day on Saturday at the park. The Route 66 Motorsports Park is located east of Kingman off of Route 66 by taking a left turn at the airport traffic signal.
The course consists of a 29-mile lap. Some classes will race as few as five laps and the headliners are scheduled for nine laps.
"There is going to be lots of jumps and action around the spectator area," Scott said. "It's going to be a tailgate atmosphere."
Spectators are invited to bring their trucks and drop the tailgates to watch the race. If a truck is unavailable, Scott said to bring lawn chairs to the free event.
Scott has been working on bringing a SNORE race to Kingman for the past four years. As development encroached on the Primm, Nev., area, SNORE was forced to look at alternative areas for hosting races. Along with Scott's diligence, it appears to have been a golden opportunity to bring SNORE racing to Kingman.
And it's no ordinary race that SNORE has agreed to bring here. The 46th Annual NAPA Auto Parts 250 is the original race SNORE held back in 1969.
Saturday's race day begins with the First Group of racing. That staging begins at 6:30 a.m. with the morning's race starting at 7 a.m. Second Group racing has staging at noon, and racing starting up at 12:30 p.m.
An awards and race party is scheduled at 8 p.m. Saturday at Black Bridge Brewery.
"We're going to mix everything and get all the motorheads together," Scott said. "Hopefully the community of Kingman will come check us out."