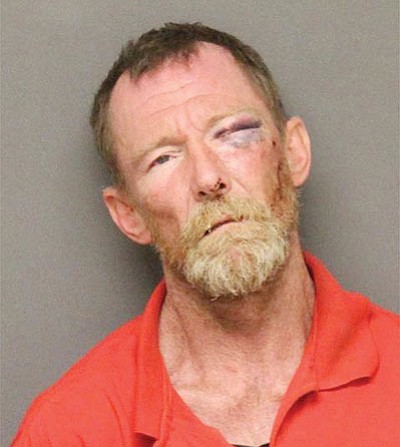 Originally Published: October 21, 2015 6 a.m.
GOLDEN VALLEY - A Golden Valley man was lucky to escape serious injury, or worse, when another man armed with a shotgun and a knife attacked him Sunday evening.
Thomas Edward Sanders, 48, allegedly came at the 24-year-old man when the younger man arrived home at a residence in the 5800 block of Davis Road sometime after 6 p.m., according to Mohave County Sheriff's Office spokeswoman Trish Carter.
The man said Sanders aimed the barrel of the shotgun at him and the trigger was cocked. He said he grabbed the barrel and pushed it up when the gun discharged. The man was not hit, but the blast put a hole in the side and roof of the fifth-wheeler in which he lives.
Following the shot, the man told deputies that Sanders dropped the shotgun and tried to stab him with a knife as they wrestled. The man sustained a cut on one of his fingers and did not seek medical attention.
Sanders, said Carter, eventually dropped the knife and ran into the desert. The shotgun and knife were recovered in the victim's home, where Sanders allegedly ditched the weapons.
Deputies began a ground search for Sanders and the Highway Patrol added a helicopter crew to the search, but Sanders was not spotted.
Just after midnight, deputies responded to a report of a man hiding under a trailer in the 5600 block of Hoover Road. They could not find the man, but heard a woman scream from a couple of blocks away. They responded and found Sanders hiding behind a bush on the Davis Road property, where apparently people live in fifth-wheelers and travel trailers.
He was charged with felony aggravated assault with a deadly weapon and burglary, but more charges would follow regarding previous incidents in which Sanders was allegedly involved, said Carter.
Later Sunday morning, deputies charged Sanders with another count of burglary and theft of means of transportation regarding an incident that occurred a few days before Oct. 5, when the report was made. A homeowner in the 5700 block of Laguna Road, 76, told deputies his home had been burglarized and "many items" were stolen, including a 2002 Honda minivan, said Carter.
In still another incident, deputies on Oct. 3 responded to the area of Brook Drive and McNeal Road after someone reported Sanders was driving erratically "while brandishing a shotgun," said Carter. Deputies contacted Sanders' sister at a home in the 300 block of McNeal Road.
The woman said she was unaware of what might have happened as she was in her room. They searched the home, but did not find Sanders, but they did find the minivan on the property, said Carter.
Sanders allegedly admitted to driving the minivan to the home on McNeal and that "he didn't do the burglary alone," according to Carter. She said the investigation remains open.