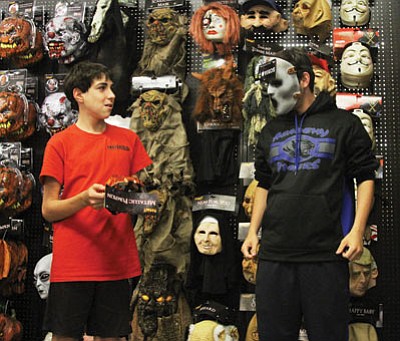 Originally Published: October 22, 2015 6 a.m.
KINGMAN - We're more than a week away from Halloween, but fall festivals and haunted houses are starting to pop up and go live this weekend. There are plenty of free options for people to enjoy, as well as a multitude of family-friendly events for those looking to avoid the scares and thrills.
Most of these events raise funds for their respective organizations, and some are just for fun.
Ongoing
• Haunted Hike: 6:30-9 p.m. today through Saturday and Oct. 29-31
Pinion Pines Station 51, 2686 DW Ranch Road
Free (Donations Accepted)
Up in the Hualapai Mountains, the Pinion Pine Fire Department will be hosting its Third Annual Haunted Hike at Station 51. The hike goes up and around the fire station and will feature ghouls, ghosts, zombies and more. Children of all ages are welcome, but must be accompanied by an adult. All donations collected will go toward helping the fire department make repairs at Station 51. Hiking boots and warm clothes are recommended.
Contact: (928) 692-1498 or (928) 757-1207.
• "Lost Mine" Haunted House: 6:15-10 p.m. Friday-Saturday and Oct. 30-31
Mohave County Fairgrounds, 2600 Fairgrounds Ave.
$5 admission, $1 parking (Canned food donation in lieu of parking)
The haunted house at the fairgrounds is put on by Shane O'Connell in conjunction with the fairgrounds staff. This year's theme is "The Lost Mine" and will feature a larger outside area as well as an indoor haunted house. The haunted house is for all ages, but may be scary for younger children.
Contact: (928) 753-2636
Saturday
• Pumpkin Patch Day: 10a.m.-noon
Dig It Community Garden, 2301 Lillie Ave.
Free
The Dig-it Community Garden was able to secure more than 100 pumpkins for their pumpkin patch this year from community donations. Boy Scouts will help carve pumpkins, the KHS Robotics Club will have its robot available, and the Toys of Wood store will be painting faces.
• Kingman Fall Festival 2015: 1-5 p.m. Saturday
Centennial Park, 3333 Harrison St.
Free, $5 wristbands for admission to certain events
The Kingman Fall Festival is put on by the Parks and Recreation Department and features carnival games, a costume contest, pie eating contest, and more. Yvonne Cossio, recreation superintendent, estimates that on average around 2,000 people enjoy the festival each year. KHS, KAHS, LWHS and Kingman Middle School will assist with the carnival booths.
After the festival, they will show the 2015 version of "Cinderella" projected on the racquetball court.
Contact: (928) 757-7919
Oct. 30
• The Lingenfelter Center Fall Festival: 3-6 p.m.
The Lingenfelter Center, 1099 Sunrise Ave.
$5 admission
A fall festival complete with face painting, fall games, crafts, bounce houses, and more at the Lingenfelter Center. Food and drink will be available for purchase, as well as a painted pumpkin patch for $10 a pumpkin. All proceeds go to providing activities and out-of-town trips to the residents living at the care center.
Contact: Jason at (928) 718-4852
• The Gardens Charlie Brown Trick or Treat Extravaganza
The Gardens, 3131 Western Ave.
Free
A Charlie Brown-themed trick or treat event, complete with candy and goodies for children in costume.
Oct. 31
• Pet Halloween Costume Contest: 9:30 a.m.
Neely's Corner Swap Meet, 1125 N. Lowell, Golden Valley
Free (Donations Accepted)
Pals for Paws will host a pet Halloween costume contest. Beth Snook from Pals for Paws said that the contest is open to all pets, and that they will give away prizes as well. Hot dogs and food will be sold by The Lunchbox at the event. All proceeds collected will go to Pals for Paws.
Contact: Beth at (928) 897-9033
• St. John's Methodist Fall Festival: 5-8p.m.
St. John's Methodist Church, 1730 Kino Ave.
Free (Canned Good Donations Accepted)
St. John's Methodist is opening up its fall festival to the public this year, with groups such as Kingman Aid to Abused People, Cornerstone Mission and the Pregnancy Aid Center sponsoring trunks for trunk-or-treat. Food, games, a cakewalk and a cardboard maze are available for kids to enjoy. No occult, bloody or scary costumes are permitted. The group is also accepting canned goods for Nana's Pantry, a food service put on by the church.
Contact: (928) 692-8828
• Trunk or Treat: 5:30-8p.m.
Martin Swanty Chrysler, 2620 E. Andy Devine Ave.
Free
Martin Swanty is hosting a trunk-or-treat event at the car lot, with music and costume prizes available to kids. It is a safe environment for families to take the kids trick-or-treating.
Contact: (928) 753-3131
• Halloween Extravaganza and Haunted House: 6-9p.m.
Boys and Girls Club, 301 N. First Street
Free
The Boys and Girls Club is working with Relay for Life to put together a haunted house and fall festival-type games for kids to enjoy. Games such as ghost bowling and candy corn toss will be available for kids to win candy and prizes. The event is free to all children in costume.