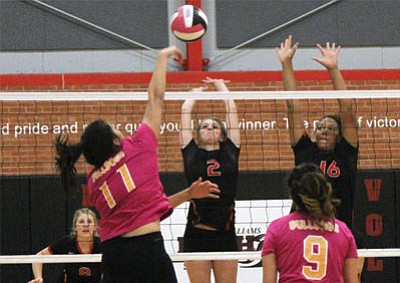 Originally Published: October 22, 2015 6:02 a.m.
KINGMAN - Senior Kim Carroll saw Lee Williams' last dig barely clear the net and stepped forward and slammed the ball into the floor. The shot sealed Kingman High's first win of its volleyball season after the Lady Bulldogs trailed two sets to none Tuesday in a Division III, Section II match at LWHS.
"I felt a lot of intensity and a lot of pressure," Carroll said moments after the win. "I don't know. I'm speechless."
Kingman (1-12, 1-3) has three matches left in the season against three tough opponents, including today at Paradise Honors (5-9, 1-3). Carroll sees a chance for the Lady Bulldogs to use Tuesday's momentum to end the season on a positive note.
"Coming from such a hard season and getting our first win against a rivalry team - it's very emotional," the senior said. "But it's very intense at the same time and we can use it to pick up the rest of our games."
Carroll finished with five kills and four blocks.
After two sets and an hour of play, the match looked to be another typical Lady Bulldog outing. Of Kingman's 12 losses, seven have been three-game sweeps, including the previous three matches. Lee Williams took the first two sets 25-18 and 25-18 before the Lady Bulldogs reversed course and prevailed in the final three games, 25-18, 25-20, 15-6.
"I asked them how bad did they want it and that they had to fight for it," said KHS volleyball coach Danielle Walker. "This was their second chance to come back and beat them. They did it."
Kingman lost to Lee Williams Oct. 1 at KHS 25-20, 25-20, 25-20.
Desirae Gonzalez led Kingman with 21 kills, 12 digs and five aces. Courtney Mossor added 15 assists, 10 digs and five kills. Anyssa Fuhrmeister contributed 14 assists and four blocks, and Aurora Camacho came up with 14 digs. Catherine Angle and Sydney Stephens each had 13 digs.
"They wanted it bad, and they took it," Walker said. "I'm really proud of them."
It was an entirely different mood on the Lee Williams side of the floor. The match started to swing away from the Lady Vols when Kingman led 13-12 in Game 3.
Lee Williams (7-8, 1-3) committed five consecutive errors that led directly to Lady Bulldog points and an 18-12 Kingman lead. Lee Williams committed 18 of those types of errors in the game that drove the Lady Bulldog comeback.
"It's that third game and they've done it all the time," said LWHS volleyball coach Traci Rosenbach. "They win the first two and they get overconfident. They have the skills. What they're lacking is in their heart."
Sadie Snay led the Lady Vols with 19 assists, 13 digs and four aces. Freshman Chania Scott slammed six kills and added four blocks, and Holly McFadyen tied Scott with a team-high six kills. Sidney Clark came up with 23 digs, and Madi Arave found 11.
Lee Williams hosts Lake Havasu (4-11, 1-3) at 6 p.m. today.