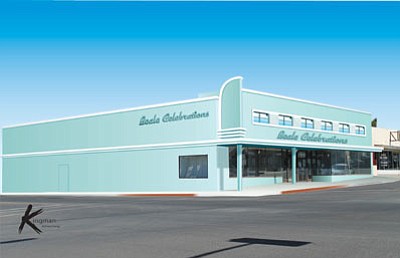 Originally Published: October 23, 2015 6 a.m.
KINGMAN - Swiss real estate investor Werner Fleischmann feels like he's been pouring money down a rat hole with Beale Celebrations, the 6,000-square-foot former JC Penney store that he bought from the city in 2013.
He's already dumped about $850,000 into the building, including a septic sewer system, new bathrooms and stage, and now he needs to repair a leaking roof.
Meanwhile, the cavernous building sits virtually empty, occasionally holding an awards banquet or fundraising event, devoid of any measurable return on investment.
"The building was very empty. Occupancy was really bad," Fleischmann said recently during a visit to Kingman with his daughter, Regina. "I will try to relaunch this with new management to help people with what they need."
To that end, Fleischmann hired Jamie Taylor of Just Marketing to manage Beale Celebrations and market the property for weddings, anniversaries, birthday parties, dinners and other events.
He paid a professor at Northern Arizona University to study the best use of Beale Celebrations. One option was to renovate it as a restaurant, but the size of the building doesn't fit with the population of Kingman, Fleischmann said.
The recommendation was to leave the building as is, install active management for better marketing and give the building a facelift that would stand out in downtown Kingman.
Steve Smith of Kingman Advertising designed a new façade for Beale Celebrations based on the Pan Pacific Auditorium in Los Angeles, which was built in 1935, destroyed by fire in 1989 and rebuilt in "streamline moderne" architectural style.
"It was a very iconic look for Los Angeles for years," Smith said. "Disneyland actually copied the façade in their California Adventure Park."
Pan Pacific Auditorium provided inspiration for a corner tower that will be added to the face of Beale Celebrations, along with a linear look and turquoise color, which is an iconic color from the 1950s, Smith noted. An acoustic engineer is coming in to "kill the echo" inside the room.
"This will help the whole area to shine again or whatever," said Fleischmann, who also owns Brunswick Hotel and other downtown properties.
Since the Central Commercial Building in downtown Kingman has been leased by a church, there's no place to host large events, Taylor said. Beale Celebrations has seating for 350 people.
It will build upon the "synergy" created by Beale Street Brews, Black Bridge Brewery, Redneck's BBQ and the Cellar Door, Taylor said.
"It's going to be a gem for downtown and a major drawing point to benefit all businesses downtown," she said. "Look at Williams and Prescott and Flagstaff. Look at what they did, and we can do the same."
Smith added: "This is going to be a catalyst to get downtown cleaned up and vibrant again."