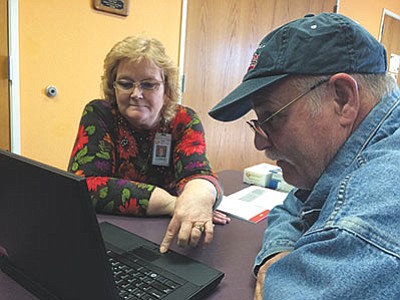 Originally Published: October 30, 2015 6:02 a.m.
KINGMAN - The premium for the benchmark Silver plan under President Obama's health care law is expected to increase 17.5 percent in Arizona next year, more than twice the national average of 7.5 percent for the 37 states that use HealthCare.gov.
The rate increase is a "preview" of average changes in premiums, and the final number could change by the open enrollment period, which begins Sunday for coverage starting Jan. 1, said Teri Williams, spokeswoman for Kingman Regional Medical Center.
KRMC is holding a marketplace fair from 10 a.m. to 3 p.m. on Nov. 17 at Stockton Hill Medical Plaza, 2202 Stockton Hill Road, with counselors from Patient Financial Services who can help people enroll in the federal health care plan.
About eight out of 10 returning consumers will be able to buy a plan with premiums under $100 a month after tax credits, and seven out of 10 will have a plan for under $75 a month, according to an analysis from the Centers for Medicare and Medicaid Services.
Arizona, with 2015 enrollment of 205,666, is among 19 states that will see year-over-year rate changes of double digits. Oklahoma will see the largest increase (35.7 percent), followed by Montana (34.5 percent) and Alaska (31.5 percent). Three states - Indiana, Maine and Ohio - will see a decline.
Insurers in many states had underpriced plans and are raising rates due to inflation and claims that were higher than expected. Arizona is more heavily subsidized than other states that use the HealthCare.gov platform, so rate increases were expected to be higher than the national average. Low-income consumers may still be subsidized with higher tax credits, Williams said.
Consumers are encouraged to visit HealthCare.gov to find the plan that best meets their budget and health needs.
A new analysis based on the second enrollment period shows that Arizona consumers who switched plans in the same tier saved an average of $42 a month, or $504 annually, on premiums after tax credits.
The report found that one-third of Arizona's returning consumers switched to a new plan for 2015. In total, they saved more than $11.3 million annually in premiums.
The analysis did not address out-of-pocket costs, which include co-payments, deductibles and other cost-sharing requirements.
"Our message to returning Marketplace consumers in Arizona is simple: Shopping may save you money," Health and Human Services Secretary Sylvia Burrell said.
The second-lowest cost Silver plan is often referred to as a "benchmark" plan because it is used by the IRS to calculate advanced premium tax credits. The benchmark plan is determined by the portion of premiums that cover essential health benefits. Roughly 70 percent of consumers enrolled in Silver plans.
About eight in 10 individuals who selected a plan qualified for financial assistance, and the average tax credit for those consumers was $270 a month.
Rating decisions are specific to each state and market dynamics. Due to competition, companies offering the benchmark plan can change from year to year. Arizona has 13 companies offering plans under the Affordable Care Act. Monthly premiums vary according to type of plan, age, income and other factors. A 50-year-old male in Mohave County earning the average household income of $34,000 paid $48 a month for the lowest plan (Bronze), to more than $700 for the most expensive plan (Platinum).
More like this story