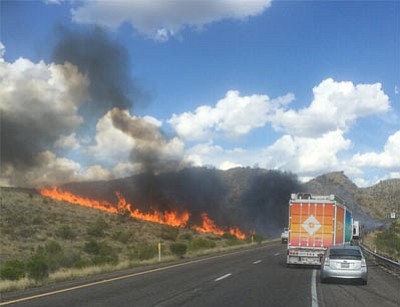 Originally Published: September 1, 2015 1:30 p.m.
KINGMAN - A fifth-wheeler that was being towed by a pickup caught fire while traveling east on Interstate 40 near milepost 82 at about 3:20 p.m. Monday.
Everyone in the truck was out of the vehicle and was not injured, but both eastbound lanes were blocked and the RV fire sparked a brushfire in the median that spread across the road when it raced across to the north side of the freeway. It burned hot enough to damage the pavement, according to the Highway Patrol.
It burned about an acre and a half in the median and on the north side of the interstate.
All but one of the RV's propane tanks exploded. The one that didn't was full and hot.
"It was crazy when it skipped the freeway," said Pat Scruggs. Scruggs, of Kingman, was heading to Flagstaff when he got stuck behind the fire. "It burned the whole median and burned the other side of the freeway."
The fire burned until 6:42 p.m. and the inside eastbound lane remains closed until the damage, including to the road and about 150 guardrail posts, is repaired or replaced. Eastbound traffic was backed up for miles and traffic heading west was significantly slowed.