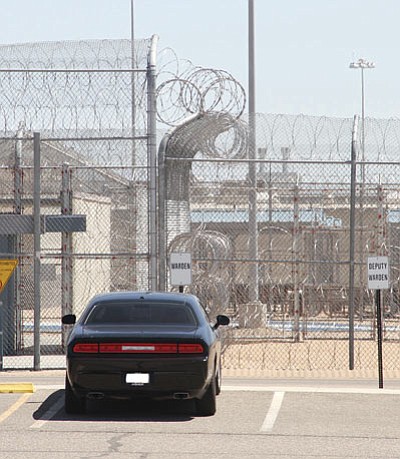 Originally Published: September 2, 2015 6 a.m.
KINGMAN - No revenge killings. No paybacks. No racial scores settled.
If any fact is abundantly clear in a comprehensive report compiled by experts who investigated violent riots at Arizona State Prison-Kingman in early July, it is this: The men who are serving time there did not riot against each other.
They raged against the system.
In fact, the overriding theme of the report was an inmate population that felt increasingly mistreated by staff, and staff that felt abandoned by management.
The one piece of evidence to suggest the violence was against the system and not each other can be found in what was not broken.
Department investigators took special note of the fact there was almost no inmate-on-inmate violence or destruction of their personal property throughout the four days of unrest. Inmates were in control of the Hualapai Unit for at least eight hours, and they seized control rooms and perimeter doors.
What follows are excerpts detailing the second riot of the holiday weekend and the first at the medium security prison.
Flashpoint
At about 8:20 p.m. on July 2 in Dorm 4, corrections officer John Kemp was involved in an incident with two inmates that investigators believe sparked the uprising.
Kemp told investigators that an inmate who had returned to the dorm after a Ramadan observance began speaking with an inmate outside of his assigned pod, an apparent rules infraction.
He told investigators the inmate, whose name was redacted in the report, did not comply with his repeated verbal orders to return to his assigned pod.
A second unidentified inmate, reported Kemp, also became noncompliant. Kemp told investigators the inmate refused to provide his identification card so he could put him on report. Kemp said one of the inmates "took an aggressive stance with him, with fists clenched and raised in the air." Kemp said the inmate came toward him and threatened to beat him up when Kemp sprayed the inmate with pepper spray, with some of the spray hitting the second inmate.
A second officer entered the area and placed one of the inmates in restraints, said Kemp, when inmates in Dorm 4's A Pod began breaking window glass by throwing locks and banging on them. Kemp said at that point he and all responding officers exited the dorm.
That second MTC employee, identified as Officer Rain, offered a decidedly different version of events.
He said he was on the second floor in Dorm 4 when Kemp used force on an inmate. Rain said Kemp was already angry with the men due to a previous incident that occurred earlier in the day.
He did say Kemp ordered the men to return to their pods, but they ignored him. He said one of the inmates did approach Kemp, but he stopped about three feet away and "it did not appear threatening to him."
Rain said he heard no more commands from Kemp, but he did see him use pepper spray - far more than necessary.
"Officer Rain said Kemp emptied his entire can of pepper spray in the air. Officer Rain said some of the spray got onto the other inmate ... and also onto himself."
Rain told investigators he did not feel Kemp properly handled the situation. He said Kemp did not spray "a short blast," to gain control of the inmate, but sprayed "for at least five or six seconds."
Kemp left the dorm after spraying the inmates, leaving Rain inside alone, according to Rain's account. Rain said he was unable to get the inmate into restraints because he was soaked in pepper spray - so much so that Rain said the man was "orange and slippery."
Inmate rage boils over
Meanwhile, other inmates began to break windows and throw things at him and other officers who returned to the dorm.
The Designated Armed Response Team was deployed and 21 members of MTC's tactical support unit staged at the Cerbat Unit. The group's commander heard inmates yelling, "We're going to kill you [expletive deleted] cops."
The inmates threw locks, broom handles and liquids at members of the tactical unit.
A lieutenant reported seeing inmates break into the case manager's office.
He said he broke the window and tossed in a CS grenade, which releases gas, and the inmates left. The same lieutenant said other inmates were trying to break into a control room. He climbed onto the roof and tossed down another CS grenade.
By 9:30 p.m., inmates in pods E and F in Dorm 3 and A and B in Dorm 5 began breaking windows. Inmates in Dorm 1 broke out the rear doors of two pods and had blocked or broken windows.
Inmates broke out the rear door of a pod in Dorm 1 and officers fired less than lethal rounds at them. They went back inside. Mohave County Sheriff's deputies were called on to patrol the perimeter for the second time in as many days at about 11:20 p.m.
Failure to lead
Frank Shaw is the complex administrator at the Golden Valley prison. He spoke with ADOC Director Charles Ryan at about 11:30 p.m., who asked Shaw why he did not order a tactical assault in an effort to regain the prison.
Shaw reportedly said MTC's Tactical Support Unit had been on duty for about 20 hours at that point in time and this was a concern. Shaw also expressed concerns about getting anyone hurt.
Ryan said he gave Shaw specific instructions to stage an assault and so did an ADOC monitor who was at the prison.
Shaw said he failed to follow the director's orders because he believed his primary concern was containing the perimeter and keeping people safe.
Shaw said MTC's TSU commander asked for an hour to rest and Hualapai Warden Pamala Rider ordered a separate TSU from Winslow to stand down rather than try and retake the dorms.
She and Shaw were criticized for that decision because an assault could have at least slowed down the rampage.
Instead, inmates rioted until 4:30 a.m., about eight hours after Kemp reportedly abused an inmate and sparked a riot. The second riot was declared over by 7 a.m.
A damage assessment proved dorms 1 and 4 were damaged to the point of being uninhabitable. Roughly 700 inmates from those two dorms were temporarily housed in the construction trades education room, the chapel and dining hall.
While the riots injured a number of officers and inmates, there was one death. Kemp, 30, took his own life shortly after the riots, reportedly after telling others he was being used as a scapegoat.