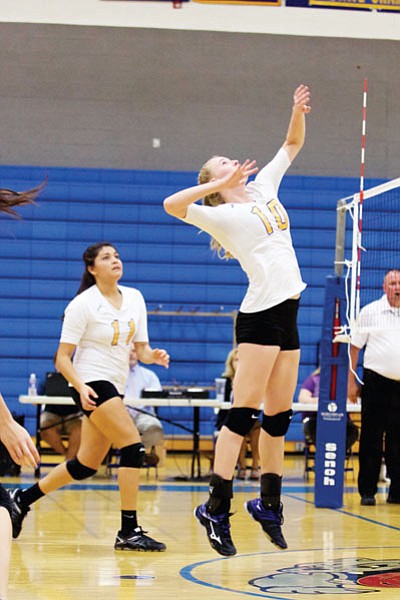 Originally Published: September 2, 2015 6 a.m.
KINGMAN - It wasn't the start the Kingman High volleyball team wanted to have Monday against Mohave at KHS. Mohave (1-0 Division IV) swept Kingman (0-1 D-III) in the season opener for both squads 25-23, 25-21, 25-19.
"We've got a lot of work to do," said KHS volleyball coach Danielle Walker. "We really need to work on positive communication on the court."
Senior Desirae Gonzalez led the Lady Bulldogs with eight kills, senior Kim Carroll had seven blocks, and senior Aurora Camacho came up with eight digs and four aces.
Kingman hosts D-III Northwest Christian (1-0) next Tuesday at 6 p.m.
LWHS boys golf take fourth
Senior Corey Smith shot a 2-over-par 37 on the front nine and finished with a 79 to win individual honors at the eight-team Flagstaff Eagles Booster Invite Friday at Elephant Rocks in Williams.
Lee Williams finished fourth against Coconino, Page, Prescott, Mingus, Bradshaw Mountain, Flagstaff and Mohave.
Brandon Carver came in 11th place, and Cole Morton was 15th.
The Volunteers faced Prescott, Anthem and Bradshaw Tuesday at Antelope Hills Golf Course in Prescott Valley. Results were not available by deadline.
LWHS, KHS girls golf in Sun City
The Lee Williams Lady Vols finished third and Kingman was fourth in Monday's four-team match in Sun City. Cactus Shadow (283) was first and Ironwood (321) came in second. The Lady Vols shot 349, and the Lady Bulldogs did not qualify a score.
Kaci Kay and Audra Coffman led the Lady Vols with 83s over 18 holes. Both shot 43 on the front nine and 40 on the back.
Courtney Mossor shot 52 on the front nine for Kingman and was the only Lady Bulldog to register a score. Noemy Venegas and Anna Dunn played but scores were not kept because the pair only picked up the game about three weeks ago.
The two teams square off at 3 p.m. today at Cerbat Cliffs Golf Course.