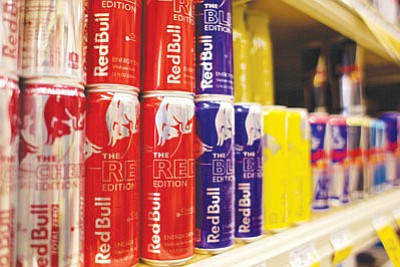 Originally Published: September 3, 2015 6 a.m.
It's 2:30 in the afternoon. Your morning coffee wore off hours ago, and the dreaded afternoon slump is looming.
You're losing focus.
Yawning.
A pick-me-up is exactly what you need to break through that wall.
How do you get that energy?
If you're near a grocery store or vending machine, it may be hard to resist the multitude of energy drinks available for purchase, especially with slogans like "Unleash the Beast" and "Red Bull Gives You Wings." These companies are cashing in also, to the tune of $49.9 billion in 2014, according to BeverageDaily.com.
There are no explicit warning labels, but does that mean that energy drinks are safe?
The dietician
Jennifer Hardy is a registered dietician and certified diabetes educator at Kingman Regional Medical Center. Because of their sugar and caffeine contents, energy drinks are on her radar when talking about diet and health.
"I'm not fond of them," she said. "Caffeine in small amounts is OK. If you're drinking multiple caffeinated drinks, especially with sugar, studies have shown an increase in blood pressure. People with diabetes have a blood pressure issue, and it's not helping them."
While ingredients like guarana and taurine are popular and are still being studied in the context of energy drinks, it's the large amount of caffeine that concerns Hardy.
"The studies are all changing. Your body gradually acclimates to caffeine. It will regulate, but you will become dependent," said Hardy.
It takes a significant amount of caffeine to achieve caffeine toxicity, about 1000 mg for the average adult. The average cup of brewed coffee, for comparison, contains about 120 mg.
Energy drinks have varying caffeine and sugar contents. A can of Rockstar contains 160 mg of caffeine, but a whopping 60 grams of sugar. Red Bull contains 80 mg of caffeine and 27 grams of sugar. Some can go as high as 360 mg of caffeine in a single can.
It doesn't approach toxicity levels, but it doesn't take that much caffeine to go over what your body can normally handle. Caffeine also stays in the body for up to six hours, making it easy to stack doses over the course of a day.
"You can tell. I get jittery," said Hardy. "People get dehydrated. Rapid heart beat. Dizziness. Those can be signs of other things, too."
Hardy also warns that it is dangerous to take such high amounts before workouts due to an increase in heart rate while exercising. Popular pre-workout supplements will often contain caffeine to help boost energy and the burning of calories, but adding more caffeine to the mix can cause problems.
The extra calories don't help, either.
"Be careful with the sugar intake. People aren't thinking about the calories you're getting. You're getting a meal in a can," said Hardy.
The drinkers
Allen Windle and Adam Caban are well aware of the risks of drinking energy drinks. Like soda or fried foods, they see it as a case of moderation.
"It's personal responsibility: how much you're drinking and what you're doing," says Windle. His energy drink of choice is the normal can of Red Bull, and he says that he drinks about a can a week when he needs a boost in energy.
"If I'm doing fine, I'll be fine," he said. "If I'm dragging, I'll get a Red Bull."
Windle did have an issue with a larger can of Red Bull when he took one before driving.
"I was driving and I had one and didn't eat. I was having a hard time breathing, clenching the wheel," he said. "It wasn't a good idea on my part. There was a lot of pent up energy that I couldn't release. I wanted to do something."
Caban is more of a habitual drinker than Windle. His drink of choice is the Orange Ultra Monsters, which contain zero calories and zero sugar. He'll have one in the morning before work and, on some days, one in the afternoon.
"I usually drink them more for the taste than the energy. They taste good," said Caban. He prefers the zero-calorie version as a healthier alternative to what he calls the "unleaded" full-sugar versions.
"I know they aren't good for you, but this one compared to other Monsters I know is a lot better."
Caban says he could go without them if needed, and that he tries to drink a lot of water to find energy when he needs it.
More like this story