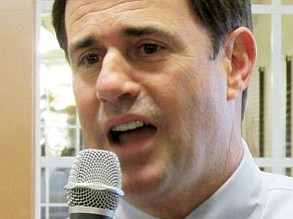 Originally Published: September 4, 2015 6:02 a.m.
KINGMAN - The Arizona Department of Corrections and Management and Training Corporation have invited private prison operators to submit "expressions of interest" in taking over management of the 3,500-bed Arizona State Prison-Kingman in Golden Valley.
MTC lost its contract last week after a series of riots rocked the facility in early July.
ADOC and MTC plan on conducting a walk-through of the medium-security Hualapai and minimum-security Cerbat units on Wednesday.
MTC was supposed to choose the company that would complete the remaining three years on its contract, but Gov. Doug Ducey said ADOC will open the process to bidders.
The GEO Group and Corrections Corporation of America already operate private prisons in Arizona. Both companies will likely compete for the Kingman contract.
The deadline to submit a letter of interest is noon today.