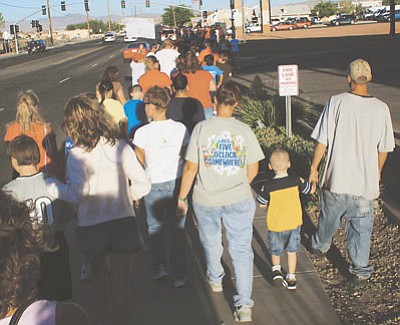 Originally Published: September 4, 2015 6 a.m.
KINGMAN - The Ninth Annual Walk Away from Drugs Public Safety Expo kicks off Oct. 7.
Walkers will line up from one of three starting lines at 5:30 p.m. with the walk to Centennial Park starting 15 minutes later. They are from Smith's Food & Drug, 3490 Stockton Hill Road, a 0.9 mile walk; Firefighter Park, 2001 Detroit Ave., also nearly a mile; and Mother Road Harley Davidson at 2501 Beverly Ave., just one-third of a mile.
There is no signup required.
The Powerhouse Kiwanis and Elks Club will provide free hotdogs and other refreshments and people can get rid of unwanted prescription drugs.
In conjunction with the event, the Kingman Area Meth Coalition has challenged Kingman-area schools. The schools with the largest percentage of student participation in the walk are eligible to win a $500, $300, or $200 prize to assist with school supplies. Three teachers will be given $50 apiece for classroom use.
The walks, which usually attract a couple of thousand participants in Kingman, are designed to raise awareness of drug abuse in the community.
For more information, contact Tiffany Reed or Chief Bob DeVries at (928) 753-2191.