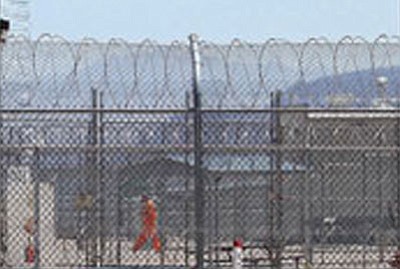 Originally Published: September 6, 2015 6 a.m.
Note: This is the final installment on a report compiled by a panel of experts Gov. Doug Ducey commissioned to investigate four days of violent riots at Arizona State Prison-Kingman in Golden Valley.
KINGMAN - The third riot in four days at Arizona State Prison-Kingman broke out not because someone was let loose on the yard after he reportedly stole inmates' contraband cell phones and illegal drugs, and it was not because a badge-heavy corrections officer went too far in his treatment of inmates.
That's how the first two riots began.
The riot on the Fourth of July occurred because inmates were hungry, thirsty, hot and without access to the prison's phone service.
It's a good thing inmates decided to calm down when they did. There were 96 members of tactical units from throughout the state's prison system who spent hours taking back the prison when, low on munitions, the order had been given to aim birdshot at inmates' legs if they continued to riot.
Hunger and hate
Tensions began to rise that morning during breakfast when there was a shortage of meal sacks.
At the same time, about 700 inmates who destroyed two of five dorms hours earlier were loaded onto buses for transport to another detention facility.
At 11 a.m. inmates in Dorm 5 B Pod refused to return to their beds for count. They eventually complied, but not before advising they had not yet been fed breakfast and were in need of toilet paper. At the same time, inmates in Dorm 3 began threatening officers.
Hualapai Warden Pamala Rider and other key staffers responded to Dorm 3 to speak with inmates. Rider agreed to speak to one inmate from each race and it took several minutes for about 50 agitated inmates to safely make room for the three representatives to exit the dorm.
"You better bring them back or we're taking this place down," inmates reportedly warned Rider.
The three men complained about the heat, lack of cold water, and the time it took to get meals.
They asked if they could get their phones turned on and Rider said yes. They then demanded they be turned on immediately. A major said turning on the system required a process to occur and he would let them know when it was completed.
The inmates' response was filled with expletives, "You turned them off in a second, you can turn them on," according to the report.
When the three inmates were returned to the dorm, those inside began demanding breakfast. When asked if they meant lunch, the inmates advised they not been fed all day.
Investigators noted it was "well after" 1 p.m. The meals had been retrieved from the Cerbat Unit, but staff with private prison operator Management and Training Corporation left them outside, undelivered.
The major attempted to feed the inmates, but every one of them refused, saying the meat was "hot and rotten." The major reportedly inspected the meals and found them "satisfactory for consumption."
The inmates in C and D pods responded with profanities and "prepared themselves in a defensive stance" when asked if they wanted their meals. They had covered their faces and picked up mattresses to use as shields.
The major tried to defuse the situation by offering an alternative meal, an offer that was again met with invectives.
At 1:30 p.m. inmates in A and D pods in Dorm 3 began barricading the windows and doors with mattresses.
They armed themselves with "locks tied to socks, broken brooms and mops and prison-made weapons fashioned from sharpened metal."
The decision was made to plan an assault of the pods to keep inmates from breaching any door or control room.
Pepper spray, flashbangs, sting ball grenades
Eventually, tactically trained personnel from several Arizona prisons began to take back Hualapai Unit.
They used a special baton to break the door window and building windows of Dorm 2. They fogged the pods with pepper spray and threw in pepper balls. Other team members fired pepper spray foggers through the windows to force inmates away from the pod door. A flashbang and sting ball was used to create more space. A flashbang does exactly as its name implies: A flash of bright light and a loud bang disorient people in the affected area. A sting ball sprays a full radius of rubber balls at a high velocity.
Inmates refused orders to get on the ground and some began destroying restrooms and waving their weapons. A member of a tactical unit was ordered to fire his shotgun loaded with rubber rounds stabilized by a fin. The officer fired a total of six rounds into C and D pods. The inmates in C Pod became compliant. Those in D Pod did not.
Other officers armed with shotguns - loaded with steel shot - went to the perimeter when inmates tried to pry open the back doors.
While D Pod inmates in Dorm 2 continued to riot, inmates in Dorm 3 began breaking windows and had already breached the pod doors and had barricaded the front door.
Once again, tactical personnel used foggers, flashbangs, sting balls and pepper spray to assault another dorm. Inmates threw locks and other metal objects at them.
By now, the units were spread over two dorms and munitions were running low. At 2:30 p.m. more help was called for and the Lewis prison was asked to provide additional munitions.
Inmates in Dorm 5 began breaking windows and trying to breach doors. Tactical units attempted a third assault, but a call for 12 gauge rubber rounds was denied. There were no more available. All that was left was birdshot.
Inmates in Dorm 5 made their way into the control room and were forced out by a final barrage of flashbangs, sting balls and gas grenades.
The inmates from Dorm 1 were in the dining hall. They complained of the heat and said they did not want to participate in the riot. TSU members broke windows to bring airflow into the crowded building. It was enough to keep them out of the fight.
Those who rioted gave up at precisely the right moment. The commander of the tactical units advised they would start using steel shot aimed at lower extremities, as there were no more rubber rounds. An ADOC administrator onsite agreed there was a need for those measures.
Fortunately, no steel shot rounds were fired.
After the riots
Four of five dormitories were destroyed. Even afterwards, investigators learned MTC staff remained complacent in providing inmates with basic needs, such as food and water. They spent hours on the yard, in the heat. More than 1,200 of them would eventually be transferred to another prison.
There were widespread reports that members of the tactical squad abused inmates after they surrendered. That topic is not mentioned in the report. In fact, every inmate was given a medical assessment, according to the report.
Investigators were heavily critical of Cerbat Unit Warden Rick Sullivan and Pamala Rider, warden of the Hualapai Unit, both for their reaction to the riots and their management of the prison leading up to the insurrection and afterwards. Complex Administrator Frank Shaw's performance during the riots was also criticized.
The most damning indictment of all, however, was saved for MTC's tactical support unit, which failed to assault the dorms earlier. Investigators said tactical assaults early on could have quelled the riots before inmates gained nearly complete control of the facility.
"The MTC TSU team lacked training, leadership, and confidence," wrote the report's author. "They were poorly equipped. There was not an adequate inventory of munitions on hand. MTC TSU has had training cancelled or members unavailable to attend due to staffing issues."
MTC staff as a whole did not consider providing inmates with water following the riots "an operational urgency," a violation of inmate regulations.
Most disturbing, given the fact that an insidious laxness at the prison led to a serious riot in May of 2010 that was followed by a deadly escape less than two months later, is this comment: "MTC emergency response plans contained no detail on when to evacuate staff or how to address inmate disturbances."
They didn't even know how to call the Mohave County Sheriff's office.
Click for home delivery with comics, grocery deals, inserts, TV listings, coupons and more
More like this story