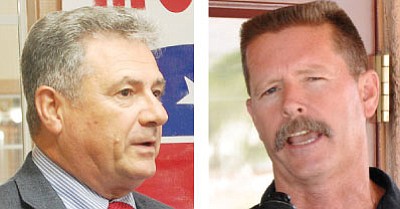 Originally Published: September 11, 2015 5:45 a.m.
Two conservative heavyweights have filed for Dr. Kelli Ward's state Senate seat this week, and both of them are well known in District 5.
Rep. Sonny Borelli and former state Sen. Ron Gould, both Lake Havasu City Republicans, announced their intentions to fill Ward's seat as Ward, also a Lake Havasu City Republican, seeks to defeat longtime U.S. Sen. John McCain.
Gould in a statement issued earlier this week touted his conservative credentials with the Goldwater Institute, the Arizona Federation of Taxpayers and the National Rifle Association. The Arizona Citizens Defense League named him its Legislator of the Year and he had a perfect voting record in pro-life issues, according to the Arizona Right to Life organization.
"I believe our conservative district deserves proven conservative leadership in the state Senate," said Gould in a statement. "I look forward to getting back on the campaign trail and reacquainting voters with my conservative voting record."
Borelli on Thursday acknowledged Gould has a solid voting record, but he also said Gould, who was term limited and could not run for re-election in 2012, when Ward won the seat, didn't do much for the District 5 constituency, which includes Mohave and LaPaz counties, during his time in office.
"He touts a report card," said Borelli. "I'm pro Second Amendment, pro life, and fiscally conservative, I want to continue to tout that team concept that Kelli, Gina [Cobb, Republican representative from Kingman] and myself have established for our district."
Borelli said Cobb did exceptionally well as a freshman legislator and she is ready to mentor whomever voters select as the district's second representative.
"She can tell that person how to navigate that minefield," said Borelli. "The Senate has to work with the House because it's not about us. It's about the people we represent."
In a dig at Gould, Borelli said people in the Legislature get elected and then try to get a good report card, but "the most important report card is the ballot. You have to have rapport with the other Republicans because it's all about getting things done for our district. I don't think Gould did anything for this district."
Borelli noted he introduced bills in the 2015 session that successfully initiated tort reform, saved Lake Havasu City taxpayers $15 million by forcing the Water Infrastructure Financing Authority to restructure the city's sewer loans, helped change laws to assist veterans and sheriffs' offices.
More like this story