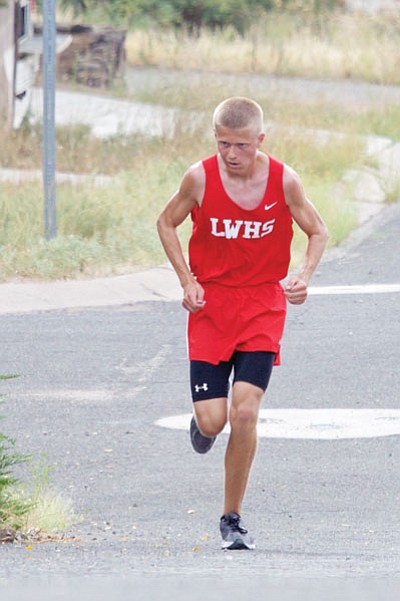 Originally Published: September 11, 2015 5:45 a.m.
The Lee Williams boys cross country team wants to make the Division III state championship meet in November, and the Vols showed they were serious about that by running away from the seven-team field Wednesday over a 3.1-mile course through downtown Kingman.
Lee Williams took the meet with a low of 22 points, 51 better than Lake Havasu's 73. Mohave was third with 77, Kingman fourth (94), Kingman Academy fifth (153), Parker sixth (163), and River Valley seventh (250).
"I'm pretty happy," said LWHS cross country coach Joan Abraham. "If they continue to run like they did today, they should get to go to state. Team-wise, I'm in really good shape, and we'll hit it hard over the next two months."
Lee Williams won the first three spots - Brendon Allred, Peyton Cardiff, and Zach Moyd - and also took fifth (freshman Cayden Robles) and 11th (Zack Tempert).
Kingman's best finisher was Christian Barrios, who came in fourth. For Kingman Academy, Sam Skankey was 15th.
Havasu won the girls meet and was followed by Mohave. Lee Williams was third, Kingman fourth and River Valley was fifth. Parker and Kingman Academy did not post team scores.
Lee Williams' Adrianna Sloma came in fourth. Alexis Whalen was the Academy's best runner, coming in seventh, and Leeann Linzell led Kingman with her 14th-place finish.
Kingman runs the Ray Wherley Invitational in Prescott Saturday, and all three teams run at Parker Wednesday.
VOLLEYBALL
Lady Vols bounce back with win
Lee Williams bounced back after its first loss of the season and swept Lake Havasu Wednesday in Havasu. The Lady Vols cruised to a 25-16, 25-21, 25-19 win.
"We played way better," said LWHS volleyball coach Traci Rosenbach. "Our defense was good. Our hitting was bad, but we still pulled it off in three."
Sophomore Sadie Snay led Lee Williams with 14 assists, seven kills and four aces. Sophomore libero Khori Cobanovich was perfect serving, making 10-of-10, and added eight digs in the back row.
Lee Williams hosted tough Northwest Christian Thursday. Results were not available by deadline. The Lady Vols compete at the Mary Jo Goldey Invitational Saturday in Havasu.
GIRLS GOLF
Lady Vols earn BIG win
Lee Williams got a big win Wednesday at Peoria Pines by finishing 14-strokes ahead of second-place Kellis. The Lady Vols shot 176 for the win. Peoria came in third and Kingman did not qualify a score.
"It was a great day with a legitimate first win for the Lady Vols," said LWHS girls golf coach Haley Bradley. "That was pretty exciting for me."
Lee Williams' Kaci Kay was medalist with a 41.
LWHS hosts Peoria Sunrise Mountain at 3 p.m. at Cerbat Cliffs Monday.